Easter has arrived, and it's time for celebration, family gatherings and far too many sweets, cakes and chocolate. If you've been holding off on starting your website or expanding your web development business, now's the perfect time to recharge and begin again with renewed vigor. To help you get up to a sprint rather than a dawdle we're offering a tremendous 30% discount on all of our products and services from today, 31st March 2015, until midnight on Monday 6th April 2015; now there's no excuse for waiting any longer!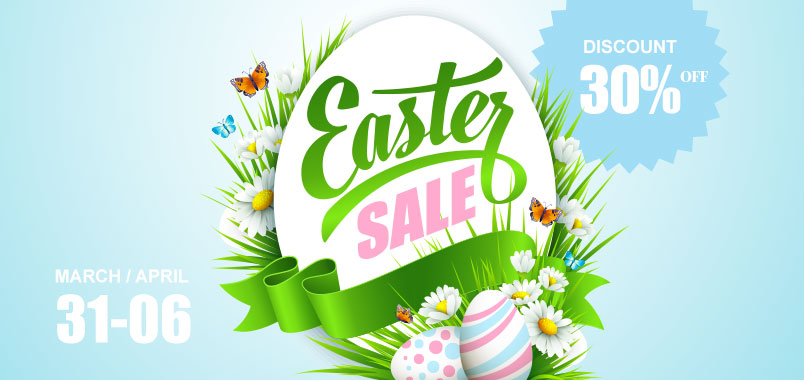 Get powerful, professional themes for a fraction of the cost
So what is this discount applied to? Well, when we say everything's 30% off we really mean it! Pick up an individual theme for a startlingly low price and enjoy the complete package with unlimited updates and support from our experts in our forum. If you're not sure what you're after, why not start with our latest Quark theme for Joomla and WordPress.
Priced exactly the same as our other products, but with longer term development support that includes frequent feature additions and new styles. Already amazing extras like touchscreen-friendly galleries, login-popups and preloader images have been added, along with a brand new style specifically for restaurants and food-based sites that introduces background video blocks and extra pages for reservations and menus. A bargain even at the regular price and with more styles and features to come, with the Easter discount it's an absolute steal.
Enjoy the greatest value deal possible with the All Theme package
If you create websites for business or want to diversify your site portfolio, then why not indulge in the incredible value of our All Themes package; with a one-off payment you can get access to all of our WordPress themes or Joomla templates, including all back catalogue and any we release in the future, with support available for every single theme as and when you need it, plus updates to keep things bug-free and smooth. The All Themes package represents the greatest value we offer, and perhaps the best value of any theme developer on the web!
For those users who are making changes to our themes and need a more focused support network, our discounted VIP Support package gives you 3 months of access to our developers directly via our support ticket system, with fast response times and more in-depth assistance for complex issues.
How to claim your discount
As you can see, this amazing saving can go a long way! Don't miss out on the biggest bargain of the year; simply grab your discount code below and enter it in the voucher code field during the checkout process after selecting your product but before heading to Paypal, to see your saving immediately added, ready to purchase. Just remember, this offer is available for a very limited time only, so don't delay and take advantage of this amazing discount today; you'd be crazy to miss it!
Note: This sale discount has expired and is no longer available. If you want to be the first to know when a new promotion is available, why not follow us on Facebook, Twitter or Google+? We'll always post any news regarding promotions there first!