Pro Joomla Kindergarten template
Introducing our latest Joomla template designed specifically for kindergartens and children's play centers – EDUKID. Packed with a plethora of features and stunning design elements, this template is the perfect solution to create a captivating online presence for your educational institution.
Our kindergarten template offers a delightful and engaging online experience for both children and their parents. With its vibrant and colorful design, it captures the essence of a playful and nurturing environment, setting the stage for a memorable journey of learning and growth.
Design Perfection for Child-Centric Websites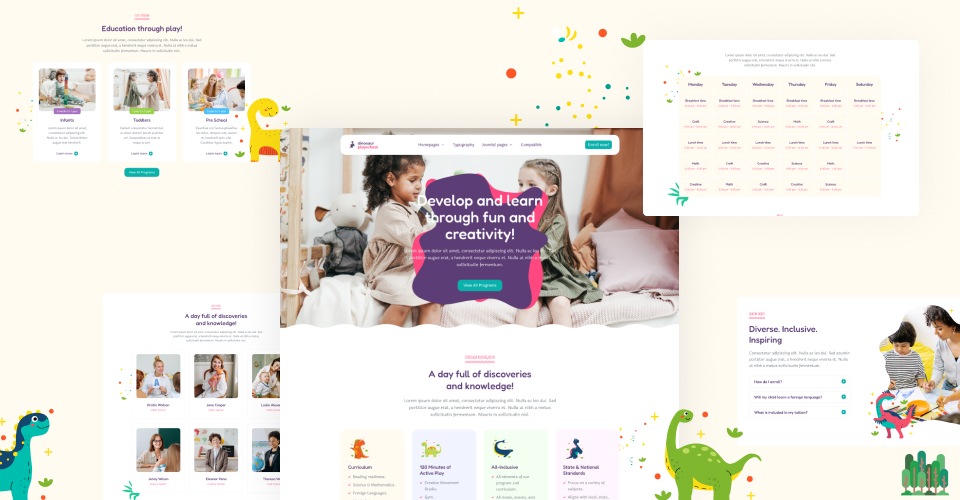 Our template's design is meticulously crafted with Kindergartens in mind. Every aspect, from the color palette to the font selection, is thoughtfully chosen to create a visually appealing and child-friendly atmosphere. The design ensures that your website resonates with both parents and children, fostering a sense of comfort and excitement in exploring your online presence.
3 Captivating Home Page Layouts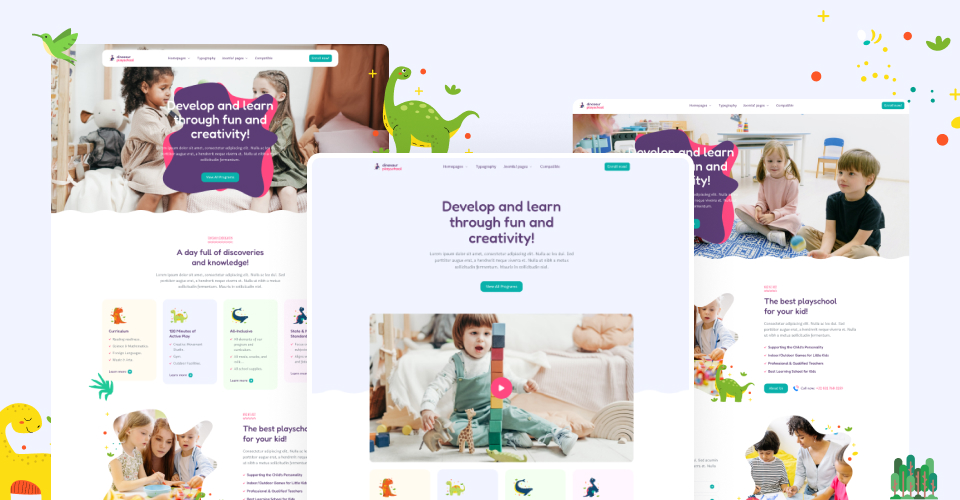 Choose from a selection of three visually stunning and captivating home page layouts, each designed to create a warm and inviting first impression. Engage your website visitors from the moment they arrive and leave a lasting impact with a layout that perfectly represents your kindergarten's unique personality and values.
Beautiful About Us Page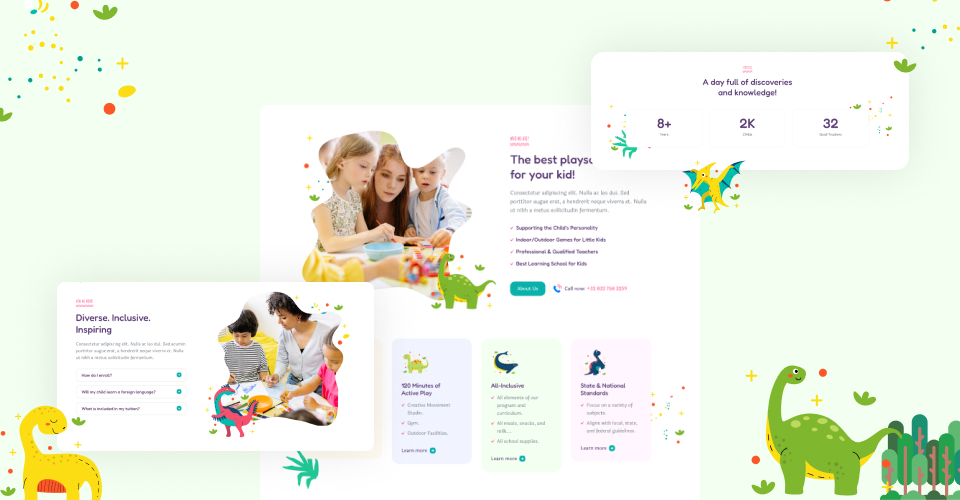 Showcase the heart and soul of your kindergarten with a beautifully crafted About Us page. Share your institution's story, values, and commitment to early childhood education in an engaging and visually appealing manner. Let parents and guardians get to know your team and feel confident in their choice to entrust their child's education to your care.
Enchanting Gallery: A Visual Journey into your Kindergarten's Magic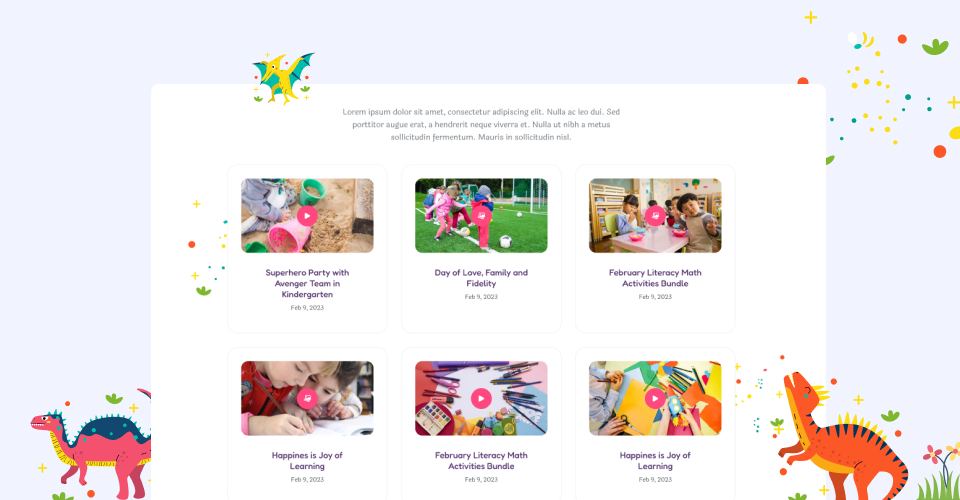 Transport visitors into the magical world of your kindergarten through an enchanting gallery. Display captivating images of your vibrant classrooms, exciting play areas, creative learning activities, and joyful events. Inspire parents and ignite the imagination of children with a visual representation of the amazing experiences your kindergarten offers.
Inspiring Teacher Profiles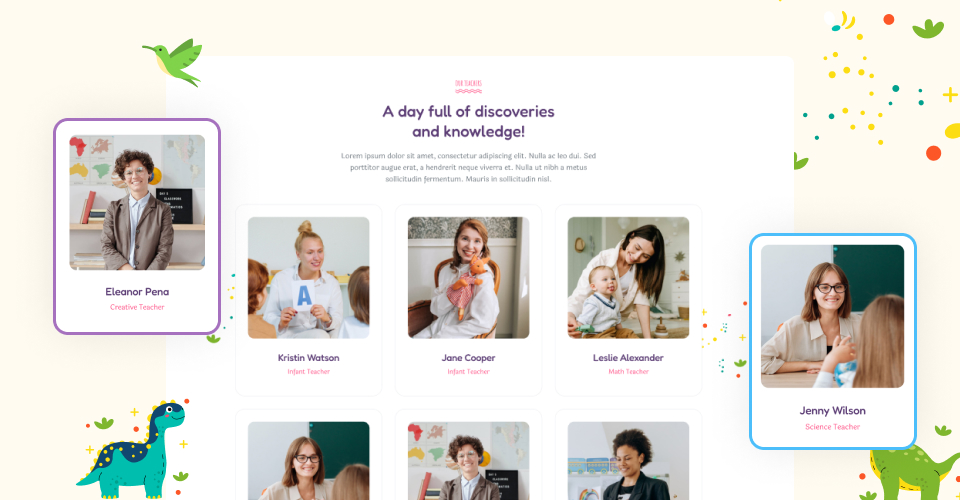 Celebrate your dedicated and qualified teachers with individual teacher profile pages. Provide detailed information about their background, experience, and teaching philosophy. Parents will appreciate getting to know the passionate educators who will nurture their child's growth and development.
Interactive Timetable: Keeping Parents Informed and Excited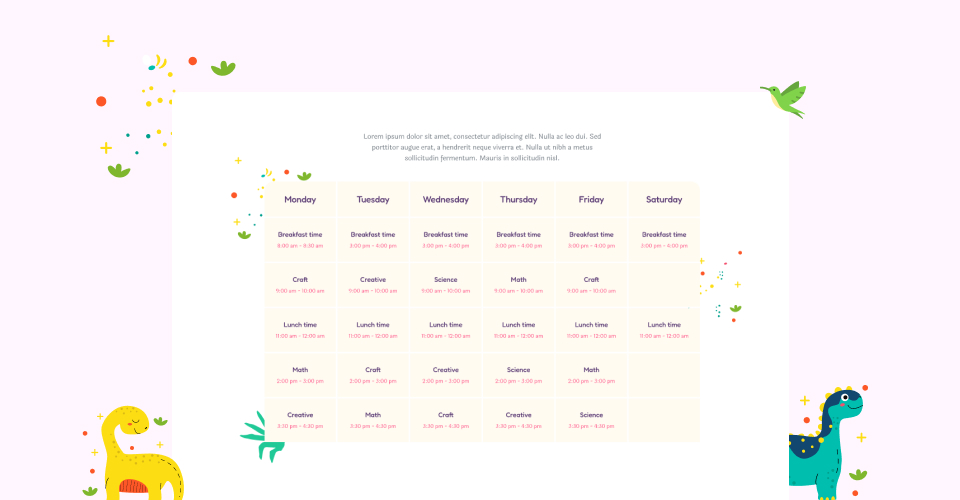 Keep parents informed and engaged with an interactive timetable that showcases the daily activities and classes at your kindergarten. With an easy-to-use and visually appealing interface, parents can stay up to date on their child's schedule, ensuring they never miss an important event or activity.
Inbuilt Blog Layout: Share Insights and Engage with Parents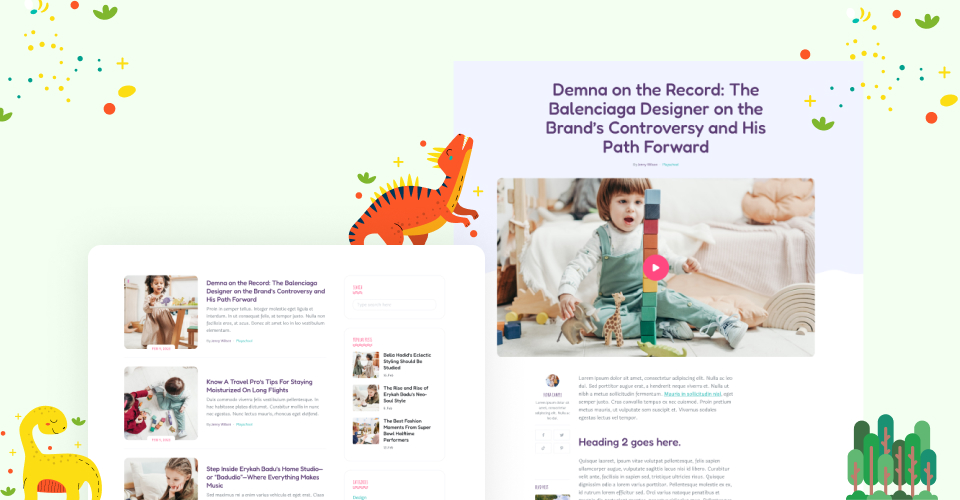 Our Kindergarten Template includes an inbuilt blog layout that enables you to effortlessly share valuable insights, educational resources, and updates with parents and the wider community. The blog feature provides a user-friendly interface for creating and managing informative and visually appealing blog posts. Enhance parent engagement by sharing articles on early childhood development, parenting tips, educational trends, and exciting events happening at your kindergarten.
Responsive Design: Seamlessly Engaging Across All Devices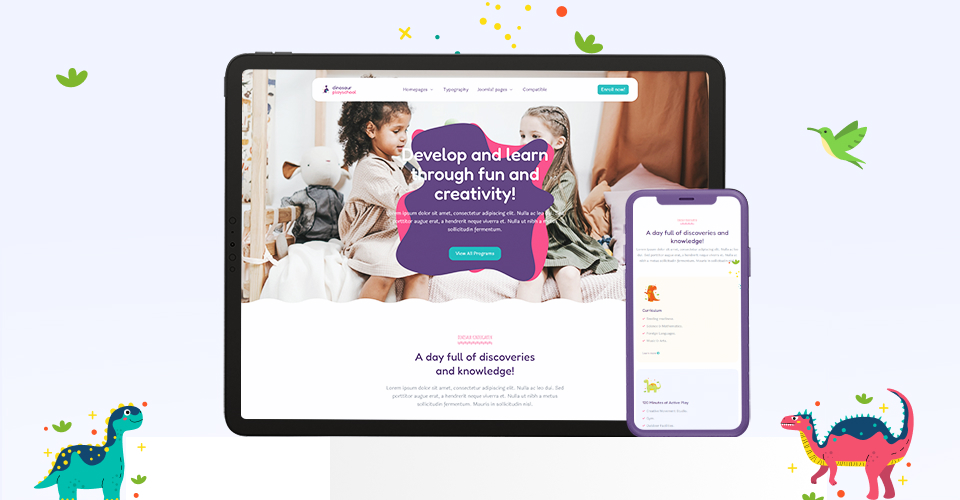 Our template is meticulously designed to provide a seamless and optimal browsing experience across all devices. Whether parents are accessing your website from a desktop computer, tablet, or smartphone, the responsive design ensures that your content is displayed beautifully and consistently, keeping parents engaged and interested.
All pages are displayed beautifully in responsive layouts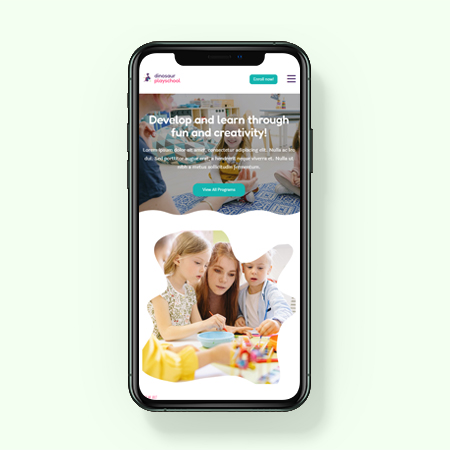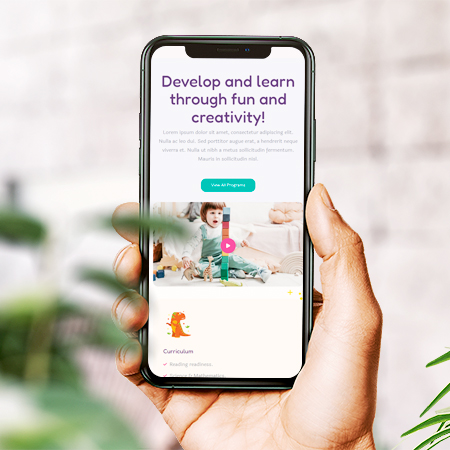 Support all Joomla Default Pages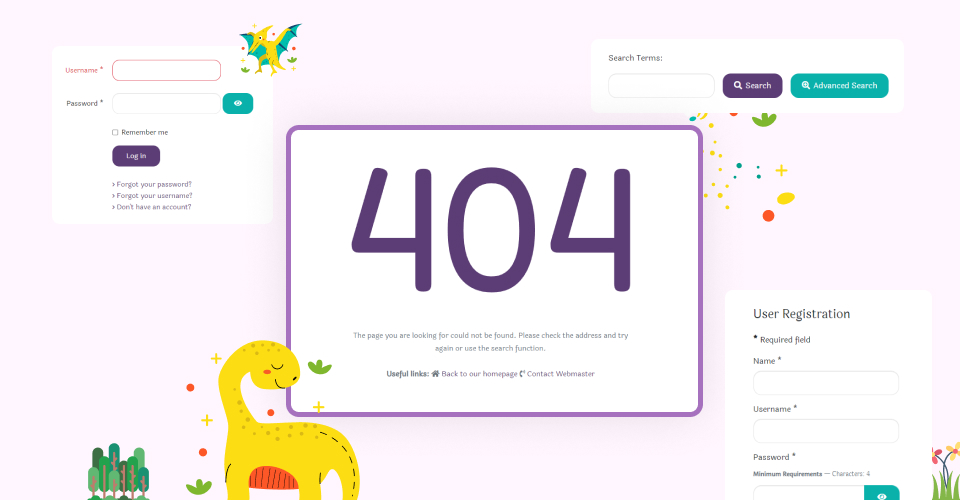 Benefit from the powerful features of Joomla with our template's seamless integration. Effortlessly incorporate Joomla's default pages into your website, allowing you to expand your online presence and leverage the extensive functionality provided by Joomla's robust content management system.
Contact us page - Get connected with an info-packed contact page, including email, contact form.
Under Construction page - Build anticipation with this expertly designed under construction page, with a countdown timer Nothing increases urgency, anticipations or conversions more than having this feature.
Error page - Custom designed already packed with link to homepage to get visitor back to where he/she intended to actually go henceforth decreasing bounce rate and increasing User Experience.
Demo
Buy Now
Updated on:

11 Jul, 2023

Version:

1.0.0

Compatibility:

Joomla 4