Villa Bellucci Joomla Hotel Template
A complete hotel template for Joomla designed for all sizes of accommodation providers, from small boutique hotels to huge popular resorts, or for culture-focused attractions such as museums. Image-packed front page sections with eclectic, interesting content including slideshows can be used to inform guests of the important aspects and values of your hotel, and support for the Solidres extension provides all the reservation and room sales functionality you could need, all styled for a seamless booking experience.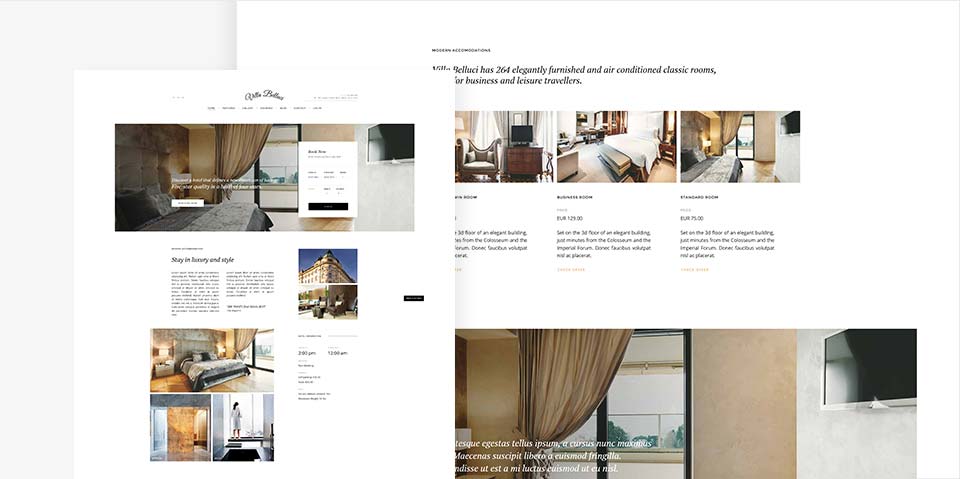 Elegant template design perfect for professional tourism Joomla sites
Our designers have an eye for detail, and every part of this beautiful template has been styled to highlight the luxurious and cultured experience your hotel has to offer. With multiple image sections in pleasing asymmetrical layouts that are effective and eye-catching as well as several slideshows, you can feature the things your guests will appreciate most, whether it's your fun, family-friendly restaurants, and rooms, business conference center or leisure facilities, and exciting local attractions, you can effectively market your property to appeal to your client mix.
Solidres support covers all your booking needs from start to finish
The primary function of a hotel, motel, or apartment rental is to give someone a place to stay, and they'll want the process to be as comfortable as possible. With Solidres (a hotel booking solution for Joomla) support, you can create multiple room types and classes so that your full inventory is ready to book at a moment's notice with booking steps highlighted so users know where they are in the booking process. Plus, each Solidres page has been styled to match the template's feel so every part of your customers' website visits fulfills your brand values.
What's more, our dev team has added Solidres support to our News Show Pro module for a frontpage room type showcase with images that will surely bring you even higher occupancy rates, and the core availability checker from Solidres is built into the header for an instant call-to-action.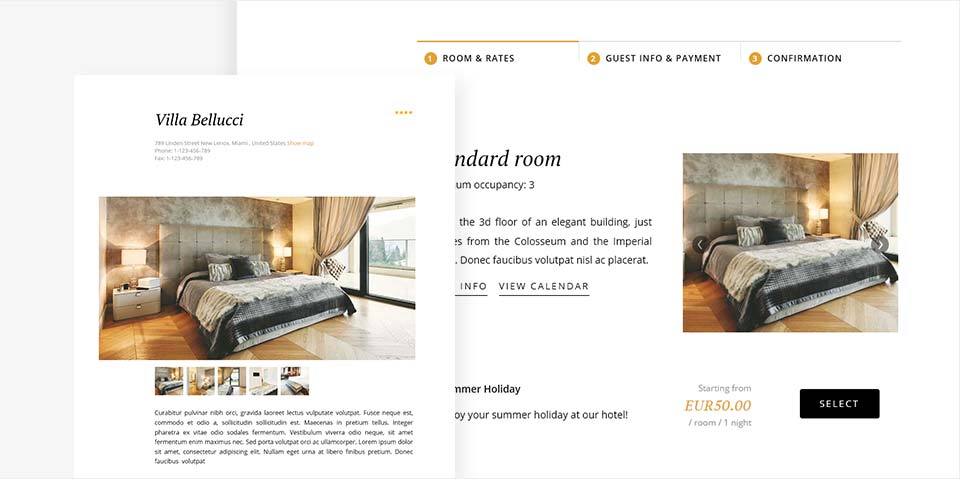 The free version of Solidres will give you the core functionality you need to run an effective small hotel or motel website, but if you're looking for large-scale functionality for expansive property portfolios you can't go wrong with a paid version that provides a wealth of new features including property search pages, prepayment and payment options including Paypal, and add even more configuration options like complex tariffs for even more control of your room rates.
Our enhanced Joomla modules add more marketing options
Our free, open-source Joomla modules have always offered superior functionality, and this extends into Villa Belucci with a new original layout for News Show Pro so you can advertise your blog posts; make discounts, special offers, and other short-term deals known on your frontpage the instant you post the announcements, as well as soldiers, support for room previews.
Plus multiple slideshows on the front page give a clear visual overview of your property location and facilities, and you have full control over the slides and links to increase your sales. Don't forget, as with our other templates you also get support for the extensive K2 Article Manager included as standard, providing new ways to create and share your content, each with special page layouts specific to K2 including wide image category and article pages that compliment your pages looks effortlessly.
Galleries, Newsletters and Contact pages; features that enhance your market potential
Your site needs to stand out from your competitors if you're going to get the market share you deserve, so we've included extra pages and options that add another layer of customer service. Touch-friendly galleries let users browse images from every area of your hotel, from conferencing to room types and receptions, all in an intuitive interface that's a breeze to use.
Villa Belucci also includes support for the AcyMailing newsletter component so you can stay in touch with guests even when they're not staying with you. To encourage more sign-ups we've included a timed sign-up pop-up that makes subscribing to your mailing lists easily. Lastly, it's not much good offering amazing service and quality accommodation if your guests can't find you, so a contact page has been included with integrated Google Maps for quick journey planning, along with a contact form and other contact details so guests can get in touch in whatever manner they feel most comfortable with.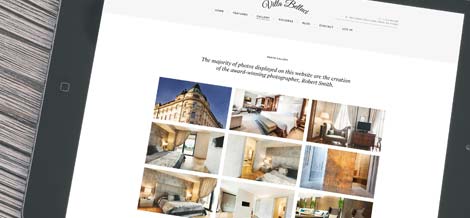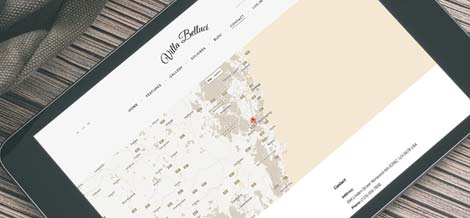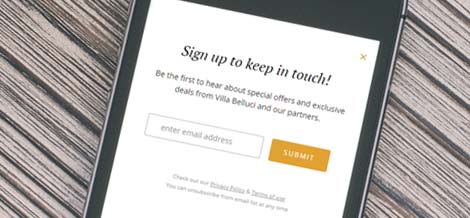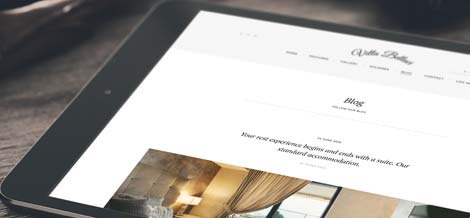 Stunning design makes for a versatile template for tourism
Not interested in selling hotel rooms? Don't disregard this template just yet. With a truly impressive layout, a suite of additional functionalities, and extension support as well as complex extra pages, you'll find that you can customize the template to virtually any tourist need. Promote your museum with exhibit pictures and in-depth articles on your collections; discuss your cultural sites and bring history to the masses; the flexibility of the theme lets you build and develop your site your way.
With all these features and spectacular design sensibilities, you'll be mad to miss out on this incredible Joomla hotel template.
Demo
Buy Now
Updated on:

14 Jun, 2023

Version:

2.0.3

Compatibility:

Joomla 4, Joomla 3

Layout:

Responsive, 2 columns