Joomla News and Magazine Template
Introducing REPORTER, the Joomla template that takes your online news and magazine website to new heights. With its contemporary design and advanced features, REPORTER is your key to creating a captivating digital newsroom.
Unleash your creativity and bring your stories to life with three captivating home layouts, three engaging category layouts, and four distinct article layouts. REPORTER caters to your content diversity, allowing you to present news, features, and articles in the most compelling way.
Purpose-Built for News and Magazine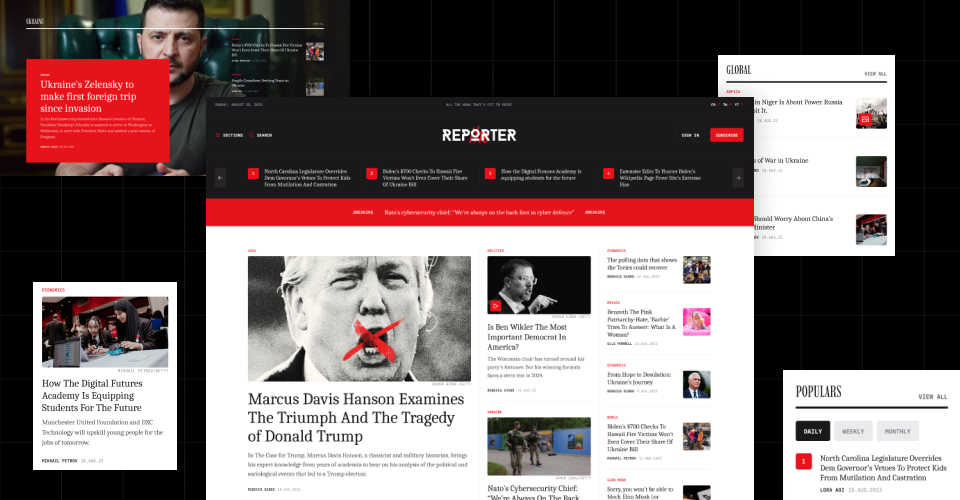 Elevate your digital publication with a template specifically crafted for news and magazine websites. REPORTER's design caters to the unique demands of content-rich online publications, ensuring your stories shine in a well-organized and aesthetically pleasing environment. From crisp headlines to engaging feature stories, every aspect of your site is optimized to captivate your audience.
Multiple Home Layouts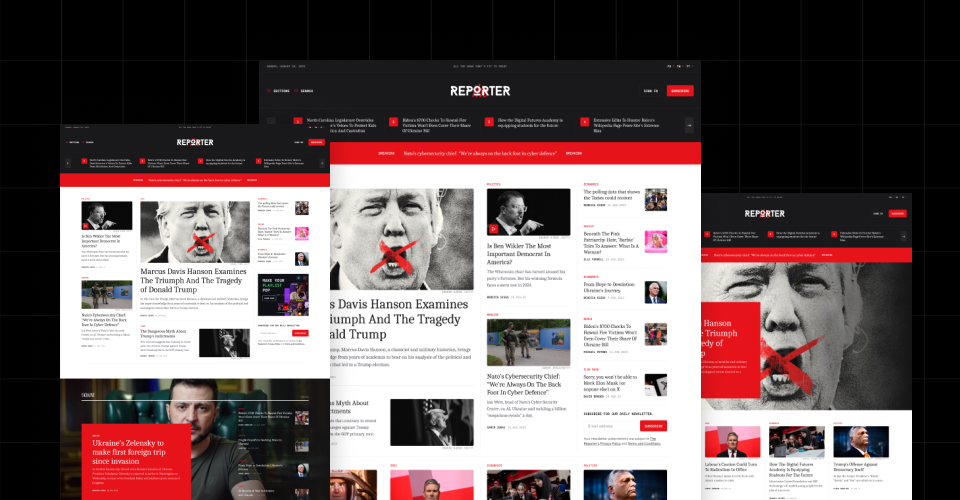 Choose from three distinct home layouts to create a captivating and tailored landing page for your readers. Each layout offers a unique visual experience, enabling you to set the tone for your website. Whether you prefer a clean, modern look or a more traditional approach, these layouts provide flexibility to showcase your content with style.
Diverse Category Layouts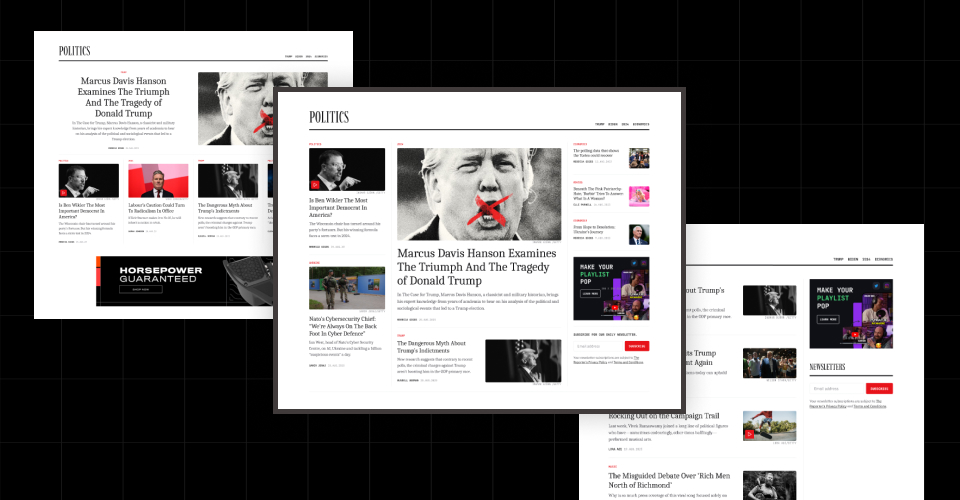 With three carefully designed category layouts, you can effortlessly organize and present your content in an engaging and user-friendly manner. These layouts empower you to structure your articles effectively, making it easier for readers to explore and discover the topics they're most interested in.
Flexible Article Layouts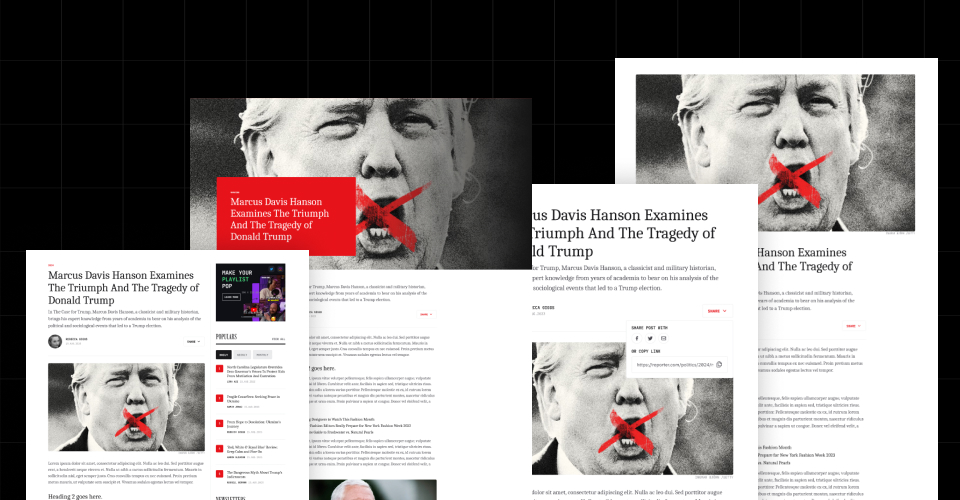 Tailor your articles to perfection with four distinct layouts, each optimized for different types of content. Whether you're publishing breaking news updates, long-form features, interviews, or photo essays, these layouts ensure that your content is displayed in a visually appealing and reader-friendly manner.
Engaging Video & Gallery Articles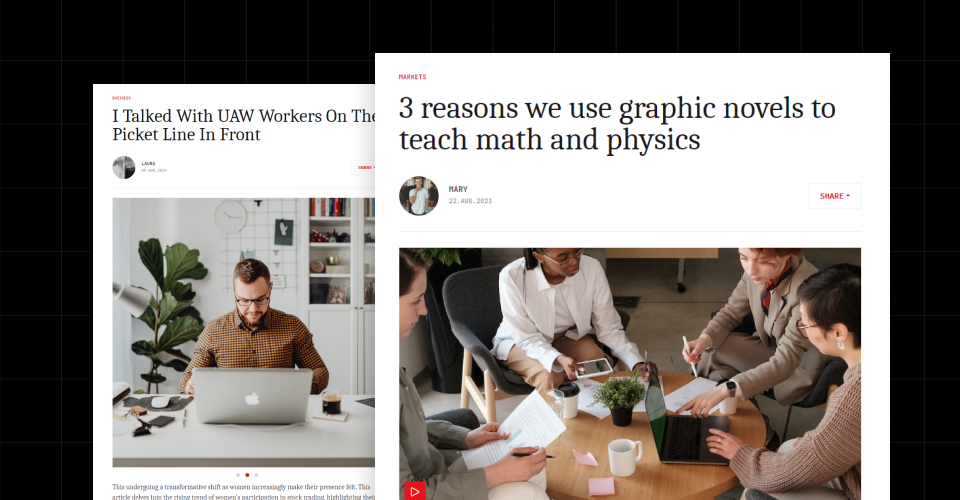 Elevate your storytelling capabilities with video and gallery articles. These multimedia features allow you to breathe life into your content. Embed videos, create stunning galleries, and engage your audience on a deeper level by presenting your stories in a visually captivating format.
Powered by the Gavick Framework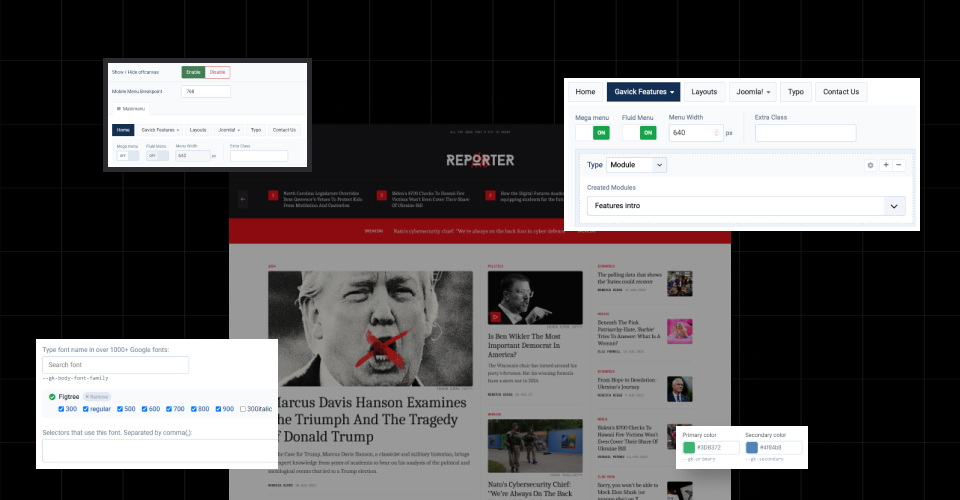 The new Gavick Framework serves as the robust foundation of REPORTER. GK Framework is not just a framework; it's your gateway to limitless possibilities. Crafted to empower developers of all levels, GK Framework is designed to streamline your web projects while providing unmatched flexibility and customization.
Theme customizer
Flexible layout system
Bootstrap 5 integration
Megamenu builder
Font configuration
Performance optimization with inbuilt CSS & JS optimization
Fully Responsive Design
No matter the device, REPORTER ensures your website looks and functions perfectly. Its responsive design philosophy guarantees a consistent and enjoyable user experience, whether your readers are on a desktop, tablet, or mobile device.
All pages are displayed beautifully in responsive layouts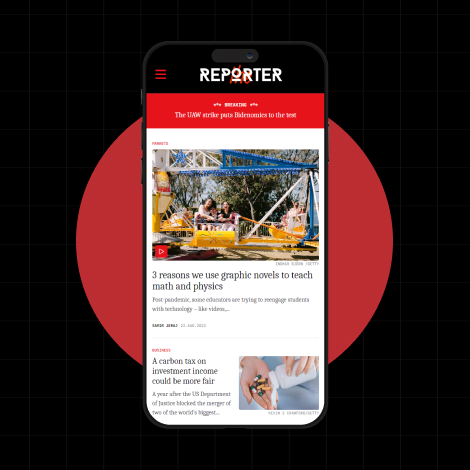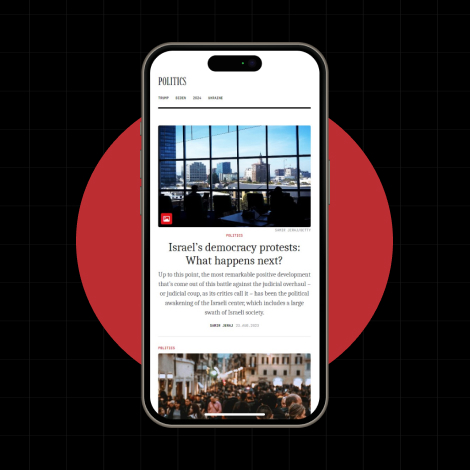 Effortless Navigation with Inbuilt Megamenu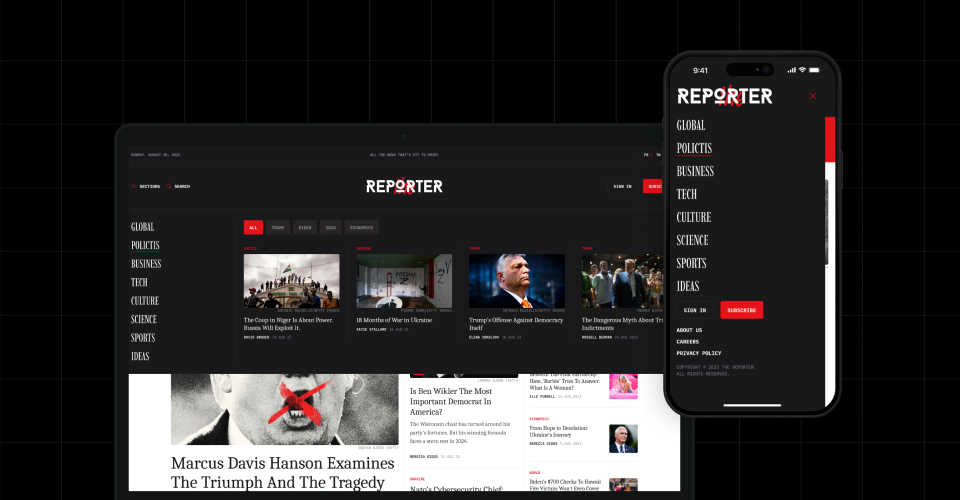 Simplify user navigation with REPORTER's inbuilt megamenu, designed to enhance user experience. Your site's structure and content become more accessible, ensuring that readers can seamlessly explore your articles, categories, and other key sections of your website.
Seamless Integration with Joomla Default Pages
REPORTER seamlessly integrates with all Joomla default pages, simplifying the incorporation of essential components into your website. This saves you valuable time and effort in setting up crucial features like contact forms, login pages, and search functionality. Focus on creating content while REPORTER takes care of the technical details.
Multiple Bonus Layouts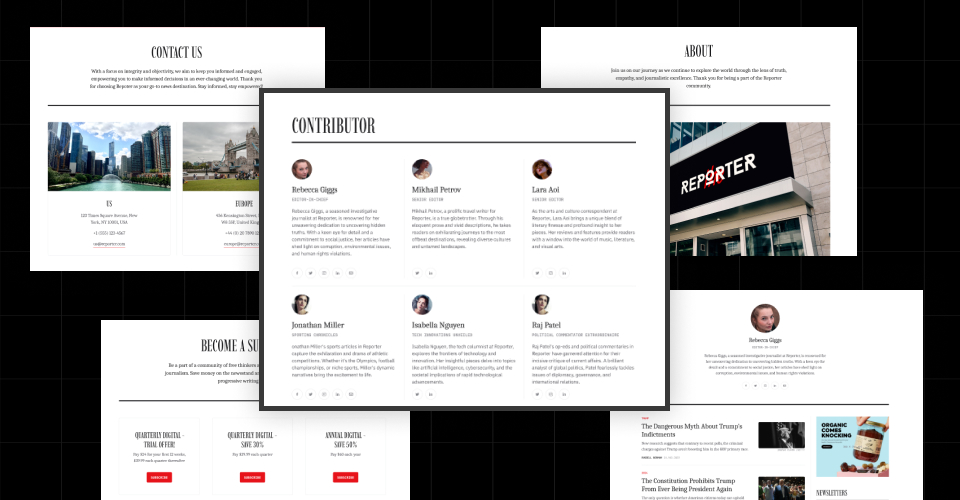 Take your website's design to the next level with multiple bonus layouts that provide you with added creative freedom. Customize your website to reflect your brand's unique identity and style, ensuring that your digital publication stands out from the rest.
Demo
Buy Now
Updated on:

First stable release

Version:

1.0

Compatibility:

Joomla 4