Quark Flexible Company Showcase WordPress Theme
Build user-friendly websites with a range of style options with Quark for WordPress. A combination of multiple features and frequent updates makes for an ever-improving site experience that allows you to evolve and repurpose your site across a range of needs. Each new style completely redesigns the Quark layout, offering new amazing web-design benefits that blow the competition out of the water. Extra pages and expert designs add flair that's sure to impress your site visitors from the moment the page loads, with all the enhancements a good multipurpose theme needs. What's more, Quark offers a page-based frontpage and bonus pages for easy setup and natural, intuitive customization via the Theme Customizer; no frustration here! Buy Quark now and get a site that's brimming with possibilities whether you're selling clothes or gadgets, running an eatery, or just promoting your ideas or services.
Default Theme Style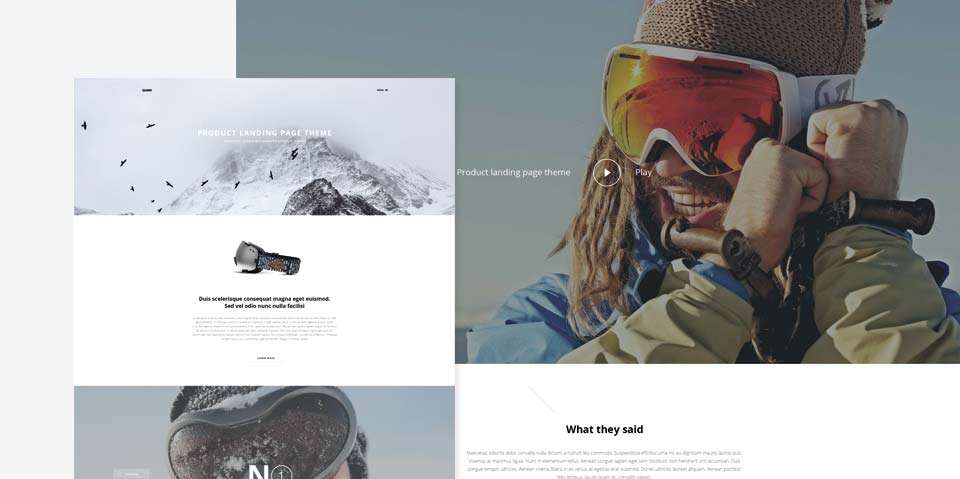 Break into the business market with a stunning promotional site
There's a lot of competition in the business world, and you won't get anywhere doing things by half-measures. The default Quark layout takes contemporary web-design sensibilities and weaves them into a sharply-focused promotional machine. Blow away your visitors with modern animated slides, snappy parallax background pics, and responsive tabs packed with flashy text and image layouts to deliver amazing content to all your users, whether they favor big or small screens.
Display videos, photos, and all your visual content in elegant page blocks
Expansive content is expected on modern websites; audio, images and video extend the reach of your messages, providing new ways to interact with your userbase. Quark includes special ways to show and browse photos and highlight videos on your frontpage in elegant full-width blocks that blend perfectly with the site aesthetic until the user is ready to view them.
Market effectively and drive up interest in your services or wares
It's one thing to get someone to your site, but quite another to convince them to make a commitment. Quark comes ready-prepared to keep your offers in the spotlight with multiple button styles and call-to-action areas that encourage users to continue exploring your site, along with essential HTML elements like price tables that can provide clear, concise information on what's included at what cost in an instant.
Your public image is important; stay in touch with your community
There's a power to good public relations, and it's essential that your company has a face to put to the name. The default Quark style includes a spectacular, in-depth company introduction page that covers all the essentials; add a welcome message from your CEO, let your team members introduce themselves in animated quotation slides, and show off your accomplishments and trustworthiness with customer testimonials and social media & project counters.
Restaurant Theme Style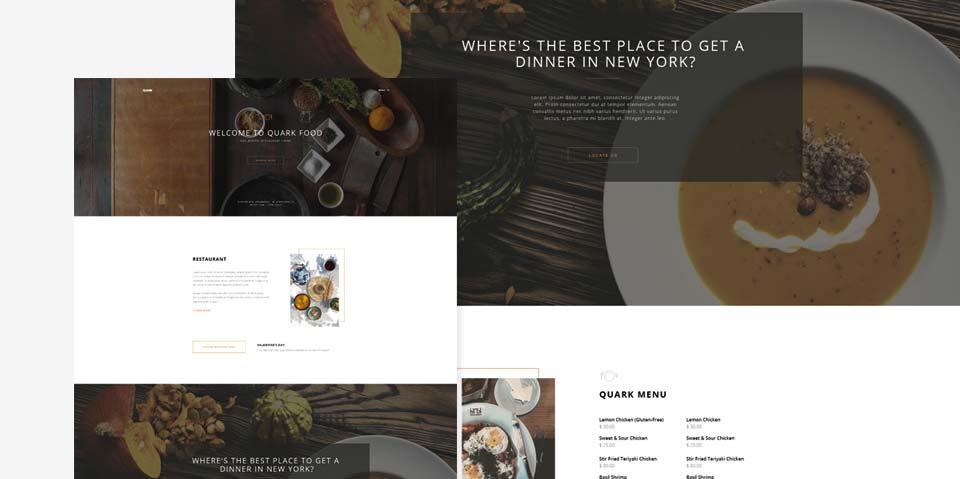 Remix your site and focus on fine dining with the Quark Restaurant layout
Excited for a style change? Our tasty Restaurant restyle is included with every Quark purchase and drives home the rustic ambience a quality eatery strives for. Warm colors complement a tastebud-tingling main page that is piled high with options for detailing every important element your diners will want to know before they visit.
New features and looks for the perfect food site
The remixed frontpage offers a twist, with multiple ways to connect with your potential customers. A special menu area showcases your most spectacular dishes, while a rotating events and blog section keeps visitors informed of any special meals or celebrations you have on the backburner, and a jaw-dropping reservation call-to-action section, with contact information, links to a reservation form, and an amazing visual feast provided by a video background that's guaranteed to catch the eye and bring people flocking to your location.
Excellent side extras round out your customers' dining options
It doesn't stop there; this restyle includes the additional gallery, contact and blog pages, as well as two Restaurant-exclusive pages dedicated to your menu and reservations. Elegant menu pages offer a measured combination of aside images and text, with star icons to draw attention to your popular options, while a dedicated reservation page covers all the information you'll need to provide a superior dining experience, with a complete contact form including party size, special instructions and date & time requests. Finally, this restyle includes a useful selection of food-themed icons from PixelLove for that special touch of finesse that brings a dish together!
Single Product - eCommerce Theme Style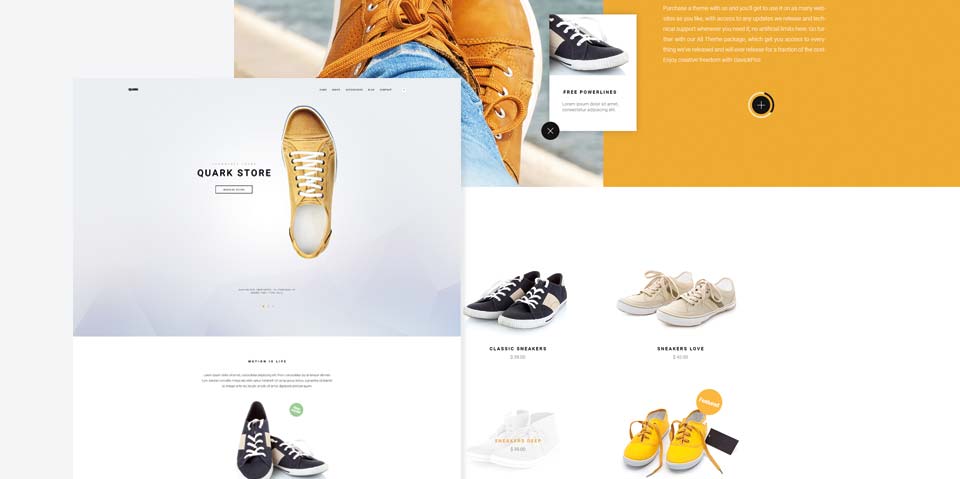 A complete marketing and selling tool for a truly unique product
Embed yourself in consumer's hearts and minds with the Ecommerce style for Quark. Expertly-designed to amplify your product brand, you can build a fanbase before you even start selling. Learn the power of brand marketing and empower your device or product as a lifestyle choice with options or design that exceeds expectations.
Your customers expect more; give it to them with unique feature highlights
What makes your offerings better than the competition? Whether you choose superior parts, offer sleeker design or more complete, user-friendly options, you need to make sure your clients know about it. Ecommerce comes equipped with a dynamic frontpage style that emphasizes your uniqueness, with animated buttons that open image pop-ups for in-depth information of avialble features, and a brand-new blog post highlighter section that can diversify and expand your content.
Sell the way you want with WooCommerce support
An online store isn't up to much if it can't sell anything, but thanks to the power and flexibility of WooCommerce you'll have all you need to get big sales numbers at your fingertips. Quark Ecommerce includes all the shopping particulars you'd like, including a dynamic shopping cart and checkout for hassle-free buying experiences with multiple buying options, and sleek WooCommerce inventory showcases on the frontpage that will encourage early purchases.
Use MailPoet to establish a strong site community to expand your social reach
Expand your brand's commercial reach with the power of newsletters. By sharing updates, new releases and important news with interested parties you can keep your offerings fresh in users' minds. Ecommerce offers support for MailPoet, a popular third-party newsletter tool that can let you create subscription forms, manage subscribers and send out newsletters all from the WordPress backend. As an extra bonus, we've created a stunning newsletter call-to-action form that floats into place after a user-defined delay on your site to draw users into joining your community. Reach beyond your limits with Quark Ecommerce!
Other Theme Features
Stress-free site customization; layouts, colors, font options and more
It's not good enough that a theme looks good in a demo; you need to be able to add your personal touch to make it your own. Quark comes equipped with all the great options you'll need, accessible instantly in the WordPress Customizer. Change colors instantly with a color-picker, modify widths, copyright information and fonts to suit your needs. Even better, each of these great options can be previewed in real-time as you make changes. No tedious clicking and checking to see what an option does; each modification will be immediately understandable.
Make your choice from two elegant, helpful menu options
Quark offers you a choice between two menus; a stunning aside menu that includes widget areas in the off-canvas area for even more great content, or the standard classic menu with multiple menu tiers, a floating top-bar for immediate menu access anywhere on the page, and a mobile-friendly overlay menu that automatically replaces the classic menu when you're on a smaller screen. Each option is responsive and adjusts naturally to the user's screen, so no matter the size or device your customers will have a clean, easy-to-understand interface to help them along.
Bonus pages and custom-made elements make your site special
It's not easy getting a complete site off the ground; there's so many little things that need to be taken care of. With Quark, we've already done the hard work, providing a range of extra pages and carefully-styled HTML elements that compliment your own work and bring your site together. Pick from a range including:
About Us page - Give your customers the scoop on your business, meet your team, discuss your company's direction, show potential clients just what you're about.
Touch-Friendly Image Gallery - in the age of Instagram and high-quality phone cameras, images have become a new way to speak to your audience. Quark includes a flashy touchscreen-friendly gallery; viewers can tap and swipe for comfortable viewing across mobiles, tablets and beyond, with separate fullscreen, zoom and social share options.
Coming Soon page - Start reaching your audience even before your site goes live with this smart, smooth construction page that displays a timer so visitors know when your site's going live, as well as social media links so you can get the word out.
404 Error page - Hitting a broken link can be frustrating, especially when it's just a standard 404 page with no information. Quark includes a proper error page that follows recommendations from Google to make it easier to get people back into your site.
Contact Info page - What use is a business if your clients can't reach you? Our informative contact page includes all the information a customer could need; email address and contact forms for electronic communication, social media links for a modern way to connect, and phone, street addresses and Google maps link to make finding you in person even easier.
Price Tables - Clean and clear price tables tell your users all they need to know about what your offering, whether products or services. Don't undersell your brand; with these custom elements you can bring all the great benefits of utilizing what you have to offer can bring.
Blogging Layout - Establish more than just a company; an effective blog section can take advantage of a community that want to hear what you have to say and expand your online reach. What's more, our social network links let your posts get shared in an instant across the web.
Save yourself a whole lot of time and energy with these great bonus pages and features!
Frequent updates and improvements make Quark the right choice for newcomers or veteran creators
Quark's just about the most complete theme we've ever built, but it doesn't end there. We push out regular updates that go far beyond traditional bug-fixing; new features and styles, created based on feedback from our community, constantly shift and improve the site experience and provide even more base content for you to build on.
For the modern, tech-savvy site maker, Quark is the ultimate choice that keeps on giving.