GK JomSocial Members module for Joomla
Last Updated:

Category:
As with the GK JomSocial Stats module, GK JomSocial Members is used with templates designed to work with the popular JomSocial community-building component for Joomla. This module is used to present brief information from user profiles. It looks as follows: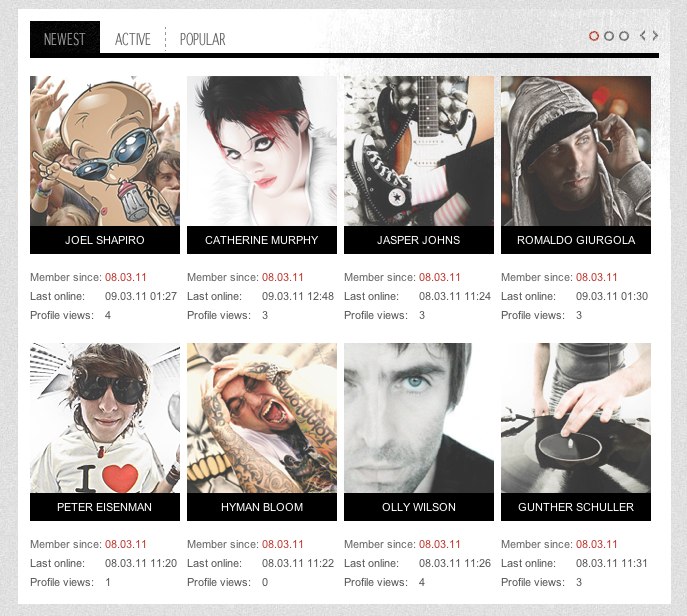 Most module elements may be modified through options accessed in the administration panel. The basic module settings appear as follows: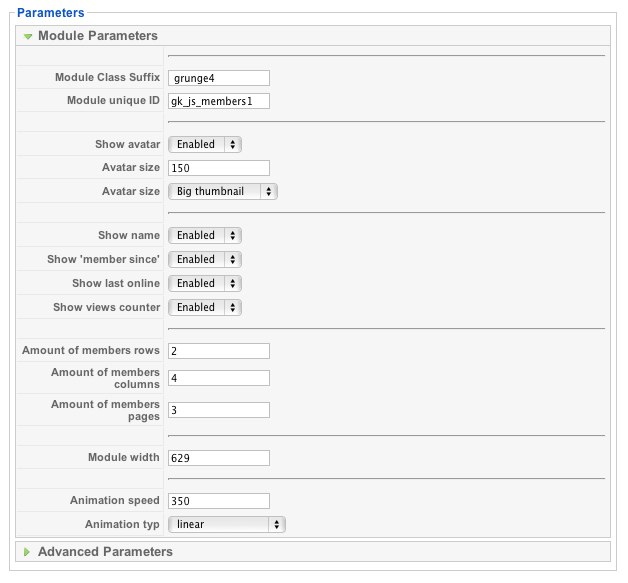 Options include an indicator of whether a user's avatar will be displayed (show avatar option), a setting for avatar size (in pixels), and selection of an image to be presented as the avatar. When using a small-sized image (less than 64 pixels), it is worth using the small thumbnail option.
The next four options are related to the short profile information – each element can be switched off. The essential elements – avatar and user name – are the minimum required to be set.
The result (product) of the number of rows x the number of columns to be displayed is the total number of profiles which can be shown at the same time. The number of pages may also be specified such that a selection of Newest, Active, or Popular will display profiles over the set number of rows, columns and pages.
User selection of the Newest group would display the most recently-created profiles. The Active group includes profiles of those who have recently added some activity on the JomSocial component. The Popular group identifies the most frequently-visited user profiles.
The Module width parameter specifies the module width in pixels. The Animation speed and animation type options specify animation speed and how it is to be displayed. Animations are related to navigation between pages of the user profiles.
In addition to the above, there is a bar of advanced settings (see below).

These settings are to switch on or off module scripts and CSS styles. In the case of CSS styles, a template supporting the GK JomSocial Members module should have built-in styles switched off in the module. With regard to javascript scripts, only one GK JomSocial Members module needs to have scripts turned on when more than one is used on a page.
This article was first published