Basic Settings – Gavern Joomla Framework
Last Updated:

Category:
First tab visible in template settings is 'Basic Settings' and it is responsible for layout configuration on administrative panel side.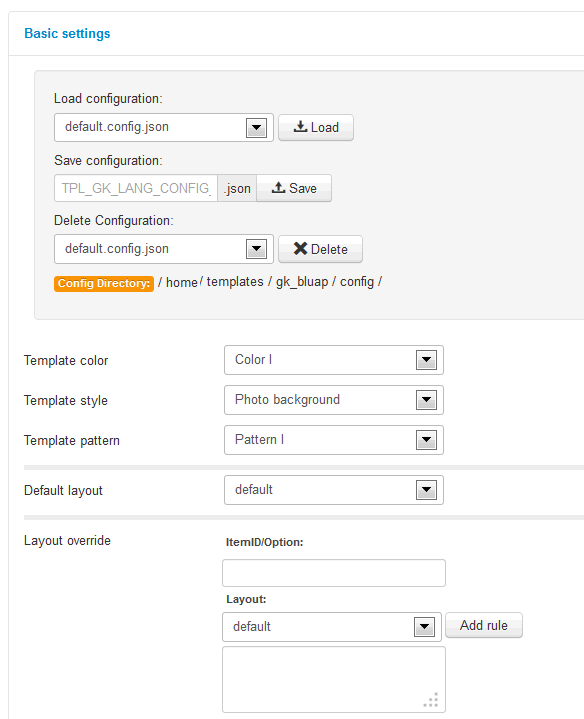 This tab is divided into three main sections:

load/save/delete template settings area
options connected with layout's basic parameters
overwriting template options
A key feature introduced with Gavern Framework was the ability to save template settings and later restore them directly from within the administrator control panel. The area responsible for managing configuration files created for the template is located in the "Basic Settings" area of Template Manager.
All of our templates contain a base file named default_config.json, which is a dump of the template settings found on our demo site version. All generated configuration files are stored in the template folder under the /config subdirectory adn saved in simple .json files. If issues are identified when saving or loading template configurations, first check directorate permissions. These should be set to at least 755.
Saved configuration files contain settings for all options available via the template settings panels from the template layout through to developer settings. To load a saved configuration file, simply select the appropriate filename from the list presented and click the 'Load' button. To save a configuration file, set the appropriate name for the file and click on the 'Save' button. If a filename is not assigned to the file, the system will automatically assign a filename in the format CREATION_DATE.json. Additionally, if the filename already exists the configuration file will not be overwritten but will instead be saved as REPEATED_NAMEX.json where "X" is the next number in sequence in relation to its namesake file (for example, EXAMPLE_CONFIG2.json). We have added also the option to remove saved configurations, and added a display of the path to the catalog where files are saved. This change will simplify the job of finding them and backing up current configurations and preferences.
In options related to layout's basic parameters in most of our templates, a user can choose:

Template color
Template style (photo or pattern background) * the occurrence of this option is dependent on the template that you're using
Template pattern in the background
and select Default layout.
There are two layout application options for which a user may specify separate files:

default layout – used on a website
layout for a Facebook service – displayed for Facebook's bots
Layout override part allows users to define layouts assigned to particular components (through option argument value) and particular menu positions (through ItemID argument value). In this way, it is possible to e.g. assign a different layout for K2 component than the rest of a site. All template layouts are defined in a /layouts directory.

Overwriting page layout rules management is very easy in use: adding rules is restricted to layout choice and giving option/ItemID parameter value. Removing existing rule is done by "Remove" button. For example, if a user wants to use a different layout on every K2 component page, the override should be done via option and set to "com_k2", overriding by ItemId demands only menu item ID which can be easily checked via default Joomla! Menu Manager in Menu Item view.
This article was first published