Box Sales & Branding Joomla template
Take your sales to the next level with Box, the premium Joomla! 3.6 template with built-in support for the robust eCommerce solution, Virtuemart. Bursting with eclectic style, Box embraces high-quality branding strategies that will guide you to build a recognizable company profile as well as an online store. With a responsive, mobile-friendly design that utilizes large fonts and buttons and clearly-separated blocks to make the site experience comfortable and easy to read, this shopping template provides a cutting-edge platform for your products.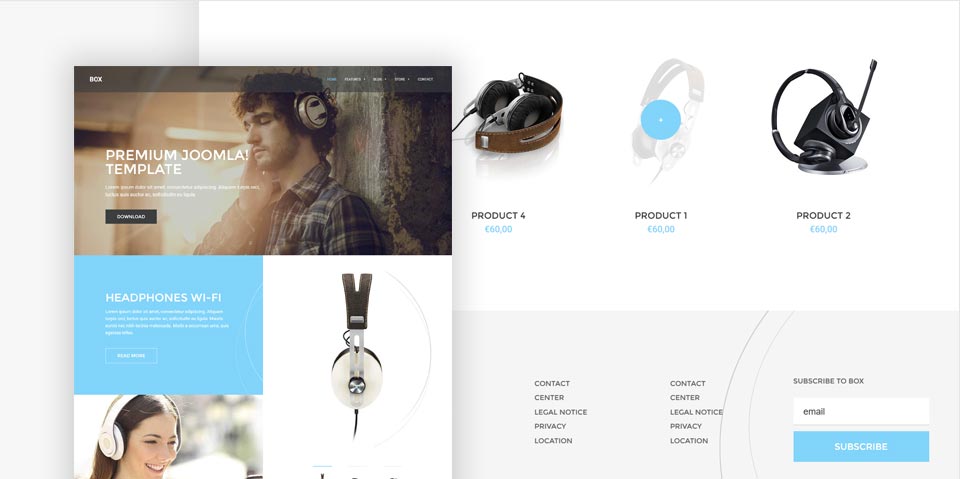 Key Features
Modern readable design with large touch-friendly buttons that looks beautiful and work great across all devices and screen sizes.
Clearly-segmented frontpage with tabbed slides plus info and image blocks to sell your branding, with multiple call-to-action buttons.
Support for Virtuemart ecommerce extension, with specially-designed product pages and instant cart updates.
Customizable frontpage product displays to highlight your inventory and encourage click-throughs.
Separate blog section with large header images, floated blocks and other advanced typography options.
Supports the powerful K2 extension as well as the standard Joomla! Article Manager.
Sell an image, not just your product
The world of online sales has changed; users aren't always looking for the best price, but the best balance between style, cost, and quality. Products need to fit with their lifestyle, so your site needs to be selling a brand image as well as your items. The Box front page takes time to establish your company's vision with a large photo header, image blocks with overlaid text, and tabbed slides provided by our custom modules so you can show visitors what you're all about before they even start their purchase.
Reach all your customers with a responsive mobile-friendly layout
It's a given that a current website will need to work just as well for mobile phone users as it does for desktops; with more users browsing on the move they need to be able to enjoy the same strong site experience that they would at home if you want to maximize your sales. The box is built with these users in mind, with a bright, understandable design that effortlessly highlights every block of information, image, and product. With clean text fonts and sizeable buttons and links that let even touch-based devices browse comfortably, this shopping theme is ready for the future of mobile browsing.
Easy ecommerce functionality from Virtuemart
Virtuemart is the go-to solution for all your Joomla! shop needs; with nearly 20 years of development, it's grown from humble origins to be an amazing option for all types of commerce sites. With support for all kinds of payment options and a wealth of add-ons available to expand its functionality, it's the premier choice for starting your online store. Box includes full support for the latest release of Virtuemart, with stylish product highlights directly on the homepage with large images and hover animations, along with carefully-crafted product and category pages as well as a dynamically-updating shopping cart for a smoother buying experience.

Further establish your brand with an attractive blog page
If you're serious about creating a one-of-a-kind brand for your company, then it's important to express your vision in as many ways as possible to penetrate the public consciousness. Though your products and site styling will aid you in this, the power of words cannot be ignored. A well-written, evocative blog with regular updates can be a hub of activity, with customers new and old dropping by to see what you have to say and join in the discussion, further establishing your image and providing a steady source of fresh views. In this template, we've made sure to create a blog layout that blends perfectly with the rest of the site, with large images, multiple ways to layer your text content, and the same readable fonts you'll see elsewhere on the site to make enjoying your posts a relaxing experience.
Stunning icon and typography options
Take your pick from a range of text styling options; with support for Font Awesome, you'll have more than 600 icons to choose from and add to your site covering the full range of categories. On the text side of things, there are floated text blocks, highlights, num blocks, and several unordered list types that will allow you to produce content that's intuitive and understandable at a glance. Want to expand what you have to offer? Box has a huge number of module positions and styles so you can add new modules and suffixes until your content is just right.
Make your mark on the online shopping world today with the power and flexibility of Box!
Demo
Buy Now
Updated on:

17 Oct, 2018

Version:

1.2.2

Compatibility:

Joomla 4, Joomla 3

eCommerce:

Virtuemart