Quark Multi-purpose Joomla Template
Quark represents an evolution in Joomla 3 templates, offering quick-switch styles that let you swap out different looks for your website in record time, with each style bringing new features, functionality, and visuals that work in tandem to provide a spectacular user experience. From dining to eCommerce, events to business promotion, and many more besides, Quark is the ultimate starting point for the website of your dreams. What's more, as well as new styles being released regularly there's also a host of extra pages, options, and other bonuses to get things off the in minutes and let you customize to your heart's content.
Base Quark Style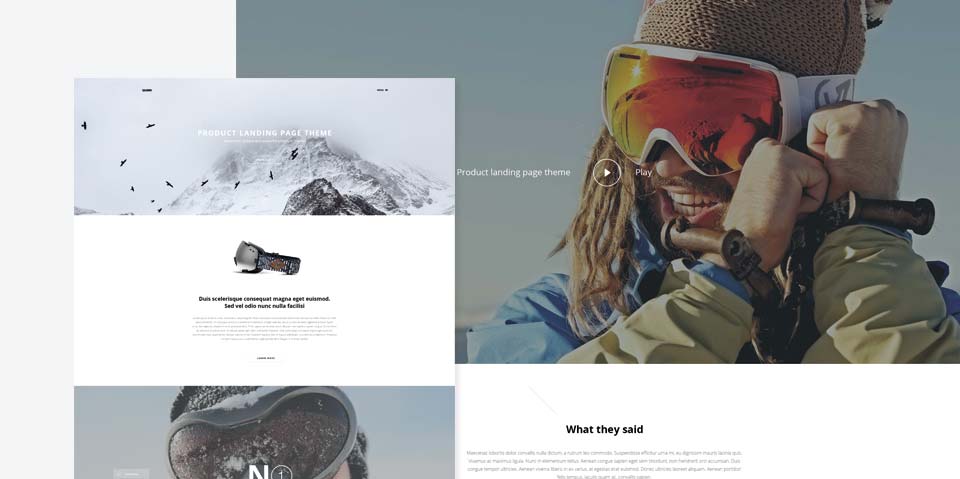 Expert design creates an effective service or tech landing page
Great innovative tech and services need a website to match. Your image plays a huge part in success, and with Quark you can make a massive impact on your patrons' perceptions with professional clean layouts. Highlight your device's innovative elements with an elegant slideshow, use photography to impress your core values with parallax scrolling and overlaid text, and frequent links can direct users to find out more about what you can provide at every step of their site visit.
Deliver multimedia content in a unique, eye-catching way
Your potential customers need to know what you're about at a glance; with more competition than ever, any delay can cause them to give up and move on. The base Quark style comes packed with features to help you make an immediate impression; video blocks that blend effortlessly with the template design and full-width tab content that boasts a range of custom layouts provided by our Tabs module with options for displaying any module content you desire, from simple text to complex showcases. Every area of your landing page can be as beautiful and enthralling as the last.
Expand and promote your social reach with social counters and team pages
You know you're popular, and you want your clients to know too. The core Quark design includes modifiable social media counters that emphasize your online clout so visitors know you're knowledgeable and trusted. Push for stronger client/provider relationships with an expansive "Our Team" page that's loaded with ways to introduce your company's team and philosophy, including client logos, animated employee profiles, and work counters that show off your successes.
Quark Restaurant Style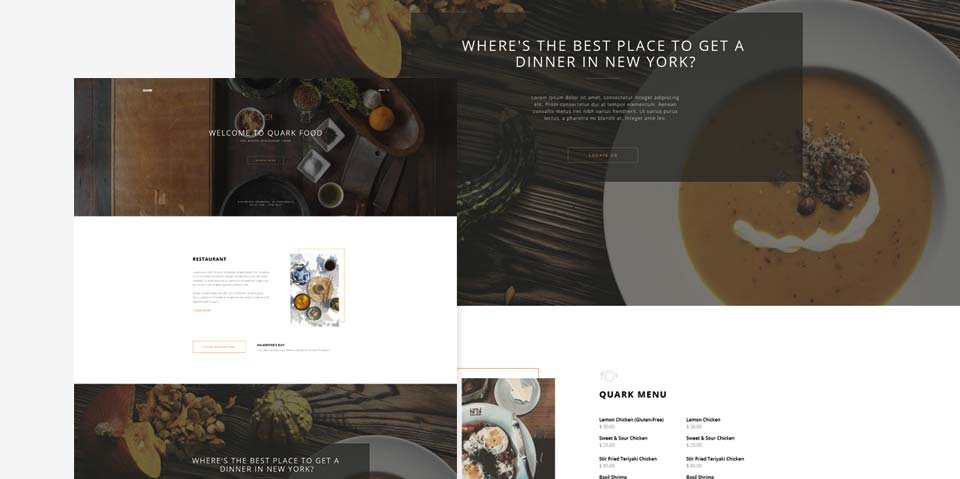 Start a beautiful bar and grill or other eatery Joomla website with Quark Restaurant
Our tasty Restaurant restyle takes all the great special pages and features of the original template and remixes them to suit a beautiful eatery aesthetic that places a spotlight on your food and drink that's sure to get your customers' mouths watering!
Give your diners what they want for the perfect food site
The restaurant's take on the homepage comes with a renewed look, allowing multiple ways to connect with food lovers. New sections include a menu area to showcase your most spectacular dishes, rotating events and blog section to keep visitors informed of any special days you have in the oven, and a jaw-dropping reservation call to action section, with contact information, links to a reservation form, and an amazing visual feast provided by a video background that's guaranteed to catch the eye and drive up interest in your location.
Excellent side extras round out your dining options
It doesn't stop there; this restyle includes two Restaurant-exclusive pages dedicated to your menu and reservations. Elegant menu pages offer a measured combination of aside images and text, with star icons to draw attention to your popular options, while a dedicated reservation page covers all the information you'll need to provide a superior dining experience, with a complete contact form including party size, special instructions, and date & time requests. Finally, this restyle includes a useful selection of food-themed icons from PixelLove for that special touch of finesse that brings a dish together!
Quark Single Product Store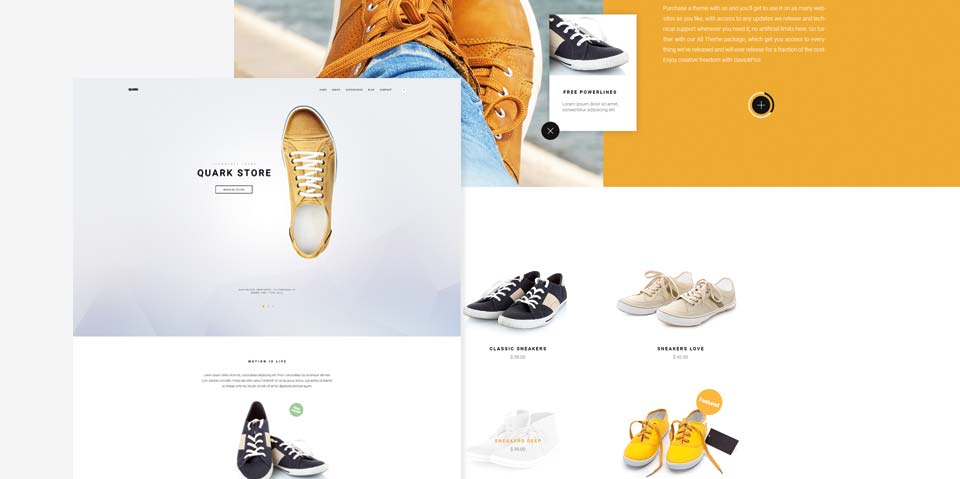 Discover a new way to sell and promote your products
Turn your selling strategy on its head with the Quark Store. Specially designed to provide a deep focus on a small range of exclusive products or even a spectacular single product, Quark Store includes new features to help you sell to discerning consumers by highlighting the sheer quality of what you have on offer. Market a lifestyle, not a product, and enjoy the loyalty that strong branding and consumer satisfaction bring.
Unique looks draw attention to your key features and merchandise
If you want your brand to penetrate public consciousness, you need a style that offers something fresh. Quark Store makes discovery part of the site journey; clickable buttons open the informative image and text blocks covering key aspects of your product line, video blocks add a multimedia twist to your front page, and relaxed product highlights let interested purchasers get a clear outline of your superior offerings.
Virtuemart support offers a simple, accessible shopping experience
Once your sublime marketing and branding has piqued interest, Quark Store has all the elements for a smooth and comfortable transaction thanks to Virtuemart 3 support. Interesting item pages give all the information your buyer needs with huge photos and tabbed sections for extra data or reviews. A dynamic cart offers a smooth overlay in the corner when clicked, and automatically updates without page reloading for maximum comfort.
Build your community, build your brand with AcyMailing Joomla Newsletter component
With the right website design and the right product, you can attract key consumers in your target demographic that will help spread your brand and reach worldwide. For that, you'll need a superior way to stay in touch with your community. Quark Store comes equipped with AcyMailing support, a superior newsletter solution that offers a robust free component and extra paid features for larger users; GavickPro customers can grab themselves a 20% discount on all AcyMailing products by visiting our Discount Coupon Page.
To help encourage users to sign-up for your newsletter we've prepared a stunning, unobtrusive yet eye-catching Newsletter pop-up that automatically appears in the bottom-right corner of the browser window, providing an effective call-to-action that's sure to drive more sign-ups.
Be original; setup your single-product focus site today
Stand out from the crowd; don't rely on mass-produced throwaway designs. Offer a product that's unique and astounding and make a website that demonstrates the one-of-a-kind special elements it offers to make a massive impact on the world of online shopping.
Other Quark Features
Smooth CSS animations and effects add a touch of flair to your site
Web technology just keeps on getting better, and Quark uses the latest advances to great effect. Customizable reveal and page-load animations mix with parallax background images, and slide effects to bring a dynamic tone that appeals to the modern browser, while responsive web design keeps mobile and tablet users in the loop so they can enjoy the full-fat experience; no corners cut here!
Get a complete website in minutes with additional pages and custom HTML
Every Quark style comes complete not just with the features and visual style to impress, but with extra pages and content to get you off to a flying start, including:
Our Team page - Introduce your company, team and values to your customers with this page.
Photoswipe Image Gallery - Show off your images and photo collections with this beautiful responsive image gallery, touchscreen-enabled for comfortable viewing on mobiles and tablets. With built-in zoom, full-screen and sharing options your photos can make an impact across the web
Under Construction page - Build anticipation with this expertly-designed under construction page, with a timer so your customers are ready for the release.
Error page - Sometimes things go wrong; with this page, built to Google recommendations, you can get waylaid users back on track!
Contact Us page - Get connected with an info-packed contact page, including email, contact form, social media and Google map links and more.
Price Tables - Advertise your services and let people know the great features they'll receive when they buy with these classic price tables.
Blog section - Deliver homegrown blog content in a stylish layout to help grow your audience and interact with your install base.
With all these extras, you can get a beautiful, full-featured website in a fraction of the time!
Quark takes advantage of the remarkable power and flexibility of Joomla 3 to make a complete package; for this reason, it will remain exclusive to Joomla 3 as Joomla 2.5 does not have the necessary power to contain it!
Enjoy a phonomenal post-release support package
As well as new styles that allow you to reskin and repurpose your webpage in the blink on an eye, Quark will also receive regular feature and content updates. New additional pages to help round out your content, as well as new features and compatibility to keep the user experience up-to-date.
With Quark, the best just keeps getting better.