Making your own Joomla quick install package with demo content
Last Updated:

Category:
When you build a website based on Joomla for your client sometimes you use your own server to build and test it, and once it is approved you have to move from server A (yours) to server B (client) without losing any content or CMS and template settings.
We also use Quickstart Packages for our templates, so you can build a functioning website that looks like the demo version quickly. Before creating a Quickstart, you should install Joomla, Template, all needed modules and add as much content (text/images) as you are able. In the following simple steps we will guide you on "How to create a Quickstart package", please follow the instructions.
You can use two methods: manually (PHPMyAdmin + FTP Client) or a much easier & quicker option; using Akeeba Backup extension.
Cleaning service
But first, if you are planning to publish a website online that will soon be managed by your client, you have to do some cleaning. You may ask "Why is this important?", and the answer is that "less content means less questions". Delete all unnecessary articles, K2 items, categories, menu items and modules. This is very important especially if you installed quickstart with sample content. Unblock all content using the "Check-in" button for the selected items & modules.
Because all trashed modules & articles can still be recovered by selecting "Trashed" in the Select Status filter and changing the status of the items to Published or Unpublished, We suggest that you permanently delete trashed content. To do this, please select "Trashed" in the Select Status filter, select the modules to be permanently deleted, then click the Empty Trash toolbar icon. It will reduce the size of the database.
Also using Extension Manager you can uninstall or just disable all templates that will not be used.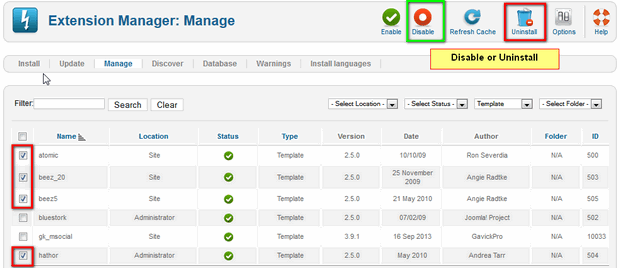 Second step, delete all all unnecessary image files which come with Joomla and any demo content, because you and your client don't really need them.
To delete files one at a time, simply click (x) icon that appears on each file. To delete multiple files, click the checkboxes next to the files and then click the Delete icon on the top-right toolbar. To delete a folder you must do the same as above, but first delete all files inside.
One click one copy
In order to copy a website, you need to install special extension to do it. Akeeba Backup (free/pro) is a component which allows you to create a copy of the whole Joomla! environment in a fast and easy way. You may also call it a clone tool. Copies created with with Akeeba Backup help include all files connected with an installation given and database dump; so it is possible to move our work to any server which fulfills Joomla's requirements.
Clone is the most common way for administrators to obtain a development copy of the whole website. Cloning your Joomla will keep all of your data perfectly intact and ready to use at a brand new location.
Shortly after installation, You can create a full copy of the website. In order to do this, in Joomla backup, go to Components -> Akeeba Backup and choose 'Backup Now' button.
Wait for the backing up process to finish. Depending on how much data (files, database size) you are have, this could take quite some time.
After finishing the process, a file can be downloaded from backup directly, however, I advise you to do it through an FTP/SFTP client. Your site copy is a fully-functional website and contains all the key elements, content, modules and components, and a template. That's why you can call it "quickstart".
How to extract & install your copy (quickstart)
The copy of the portal will be in the form of one file with a .jpa/.zip file type. The default location of the Copy package is the administrator\components\com_akeeba\backup folder. After downloading the file, it has to be placed on the server and a tool named Akeeba Kickstart (akeebabackup.com) must be downloaded. It is a simple to use script which allows you to extract your archives directly onto the server, as well as recreate and configure  the Joomla environment from the Akeeba copy.
Note: Do not try to install it in Joomla!, this is not Joomla extension, this is standalone tool. Instead, you'll have to unzip it first. Kickstart is not an installer. It is only an archive extraction tool.
You have to upload the kickstart.php and your language file (the INI files are translation files) and of course your archive to the target server.
Remember also to prepare a new MySQL database for the CMS copy.
The last step is to start-up a script which is done by calling the appropriate address on a browser address bar in the following format: http://www.YourSite.com/kickstart.php  – this will start installation wizard.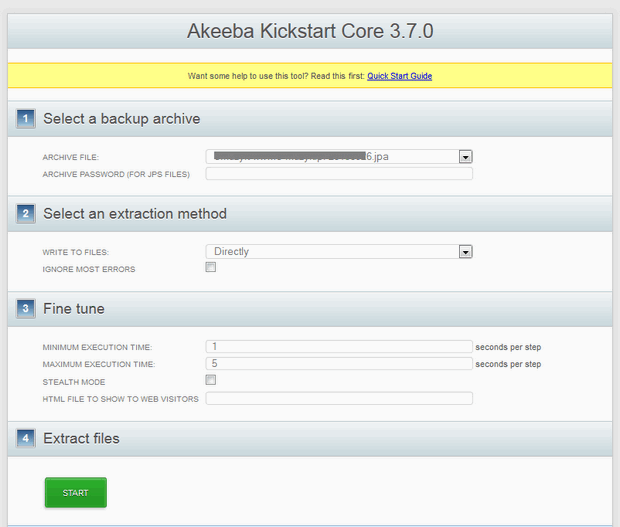 Note: Kickstart overwrites files without a warning. It will extract the archive right on the server and rename your .htaccess and php.ini files. So you have to remember to rename those after proper installation.
When the extraction is complete, you will be presented with an option to launch the installer. Clicking on the large green button will launch the installation/index.php relative URL to a new window. This will launch the Akeeba Backup Installer which was included in your archive (quickstart).
After you have completed your site's restoration and you close the installation script's window, you will be returned to Kickstart where you will be able to delete the kickstart files.
Summary
We have just introduced you to the fast way to create a Joomla Quickstart Package and a full backup of your site. I hope that you are able to create a Quickstart package easily with the above steps. Using this same method you can create a Joomla with universal basic settings and useful modules/plug-ins/template etc.
p.s. Kickstart.php can be even used to extract other archive files including CMS and script installation files (Joomla!™, WordPress or Drupal).
This article was first published