Today we've released a huge template update, namely Gavern 2.17/3.10. First of all, our products have been updated to the latest
Joomla!
version;
2.5.16 and 3.2
. Joomla! 2.5.16 is just a security release and it is 100% safe to update your installation without updating the template, but in Joomla! 3.2 you may notice some issues. The new Joomla! 3.x version adds several new features and include changes in Joomla! code,
that's why we advise that you update the template first and then the Joomla! CMS
. We need to modify Menu classes and several default Joomla! views; that's why it is strongly recommended that the template update is applied before the Joomla! upgrade.
3rd party extensions
Our new Gavern version also includes updates for most of the supported extensions:
Music, (M) Social and Music State templates now support JomSocial 3.0.5.2 – proper styling for the Music template may be found in the rest_files package; (M) Social and Music State contains their respective updates in the template CSS files.
Boutique, eSport, Bikestore and Storebox – now supports the latest version of VirtueMart (2.0.24).
Boutique template has also been updated to redSHOP v.1.3.3.
This release also includes many bug fixes and style improvements. A full list of changes for every template may be found in the Updates section of our website. The main changes for all templates include:
fix for overflow in the Social API area when you click on the Like or Recommend buttons.
improvements for Typography elements in K2 item view.
Typography button fix (for Joomla! 3.x only) – the updated plugin is available in the rest_files package.
Login with Facebook bug fixes on the regular login page for several templates.
Open Graph plugin improvements (fix for Fatal Error on some views that are not HTML),
and many, many more small CSS corrections for particular templates like Cloudhost, Bluap, Storebox, (M) Social and others (please check your template update description for more details)
Due to fact that responsive templates don't require the
GK Extended Cache plugin
(and it is even recommended that it is disabled) we've removed this plugin from the rest_files packages. Also our modules get small update according to Joomla! 3.2 administrator area changes. News Show Pro GK5, Tabs GK5, Image Show GK4 and Gird G5 are available in download area. This updates include only several improvements for Joomla! 3.2 with new module configuration layout :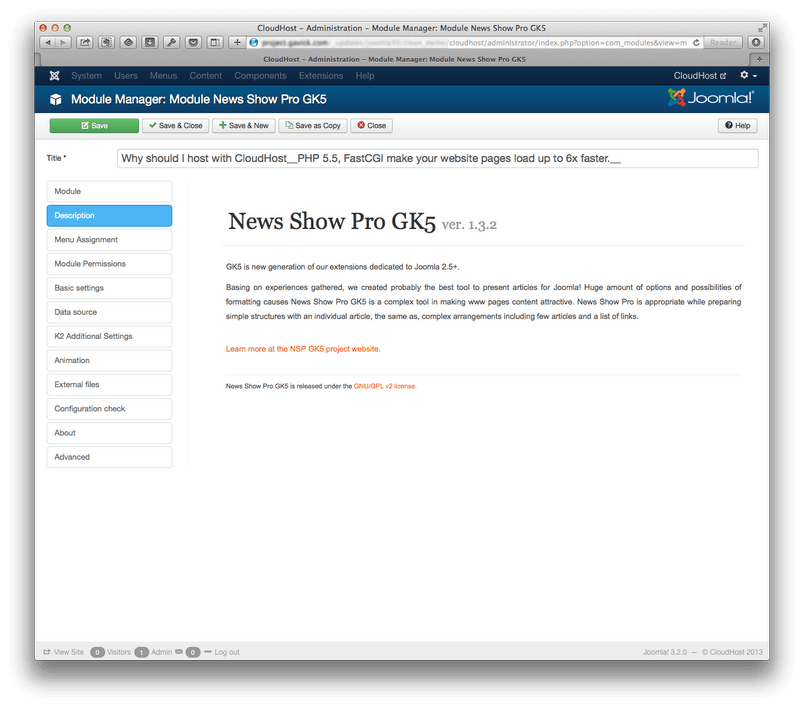 Remember to create a backup before you begin!