On the 7th November the Joomla! Project announced the release of the beta1 version of the upcoming Joomla! 3.5. The beta release contains all the major and minor changes that the full release of 3.5 will include, so it's a great way to start playing with the new features to see what cool new things are being added. Like always, the beta releases are for testing purposes only; they should not be used on production servers and there will be no upgrade from beta to stable release. So if you want to give Joomla! 3.5 a go then the best thing to do for now is run a clean installation on your test server, or create a copy of your existing environment before installing the beta; once the full release hits you'll be able to upgrade your live installation as normal. Installation packages – both upgrade and full release – are available as tagged versions on the official GitHub repository.
What's new?
The beta version already has all the planned new features for Joomla! 3.5 implemented and there are no plans to expand the feature list before the stable release, so save for some testing and bugfixing we can be reasonably sure that the beta will offer a similar experience to the full release. In keeping with the revamped roadmap this new version introduces a few tweaks to existing features and a lot of bugfixes rather than significant improvements or changes; a full list of additions is available on this GitHub page; as you can see they are msotly focused on removing the MooTools library from the backend and general code cleanup. There are some changes to the admin experience included though that are worth a look.
System Plugin – Joomla! Update Notification
The first new feature in the upcoming Joomla! release is a new plugin called Joomla! Update Notification. As the plugin description says:
This plugin periodically checks for the availability of new Joomla! versions. When one is found it will send you an email, reminding you to update Joomla!
This great feature allows you to specify a list of email addresses (which must belong to existing super users to avoid spamming) using a comma as a delimiter, which will then receive info about every single Joomla! update. No need to keep an eye on social media channels or the joomla.org website for update notifications; the message will be sent directly to you email inbox! Since updates will often contain important security fixes a simple method for admins to keep their Joomla! installation up-to-date is imperative for keeping sites safe.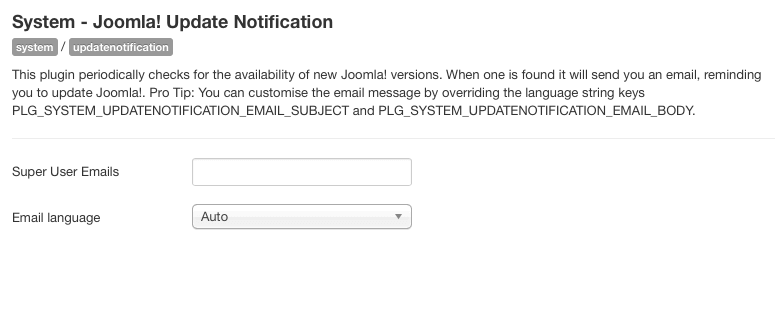 Improved back-end views
In a few backend views, such as categories, banners, newsfeeds and contacts we'll see some new columns which indicate the amount of published, deleted, archived and trashed items. Now we no longer need to switch layouts to check how many articles are in the trash, since we can see it directly in the categories view for every category. Sure, it's not an earth-shatteringly awesome new feature, but small additions such as this make the day-to-day content management that little bit easier.


System Plugin – Joomla! Statistics
The second actual feature addition, and once again it's provided by a plugin. This extension sends anonymous data to to a Joomla-controlled central server for statistical analysis purposes. What kind of details are sent? Just some base environment details like PHP version, CMS version, Database type, Database version and Server type. The main reason why Joomla! Project decided to gather this information is to help them understand Joomla! users better; with this kind of data they'll be able to plan upgrade routes more efficiently to benefit a wider area of the userbase and avoid raising the minimum requirements beyond what the majority of Joomla sites have available. Access to this data will be restricted to just a select few, but the plugin will be enabled by default which means that every Joomla! 3.5 installation will share this data until the site administrator disables this plugin. Though there has been a lot of privacy concerns being raised in regards to software in recent times (one only has to look at the backlash to Windows 10's data-collection for an example), in this case the Joomla team are being entirely transparent as to what they are collecting, how they are collecting it and how they are going to use it, so we don't think there's any reason to disable this plugin once Joomla 3.5 releases; this data may be very useful to provide Joomla! hotifxes and learn how many people use this CMS and how, and since Joomla's strength has always been its community we expect that most users will be happy to contribute.

More overrides!
As we all know in Joomla! we're able to overwrite almost every view; but what about the backend template's CSS? Before Joomla! 3.5 there was no way to add extra CSS stylesheets to the backend template, which meant that customization options were limited. Thankfully, in the upcoming Isis template release, which will be the default for the backend, user styles are included. All we need to do is create a file called custom.css and place it inside the template directory in the /css subdirectory, and the template will automatically load these styles. So now, finally, we'll be able to customize the backend style with relative ease.
Drag & Drop images in the TinyMCE editor
The TinyMCE editor gets a small update in this release; the main change that you will see is the editor layout which is slightly different to the one in Joomla! 3.4.x. Finally, the bottom buttons for adding images, read more etc…into your content are now included in the main editor toolbar.


Despite this change the editor toolbar is still the same height, but it is much easier to use these buttons in the main bar instead of having to scroll down to the bottom of the editor every time you want to insert an image. This also makes the editor a bit more intuitive for new users who will be more used to word-processing software layouts. The image upload screen (pop-up) has also been redesigned and now has two tabs: the first for choosing an existing file from your media library and a second one to upload new images. That's not all; now the editor supports drag & drop for images in the editor window. You need only drop the image you want to use in the editor area and the file is automatically uploaded to the server and inserted in the content where you placed your cursor. At the moment the images inserted via this method are uploaded directly to the /images directory; make sure to remember this if you've got a lot of images and prefer to sort them into their own subfolders.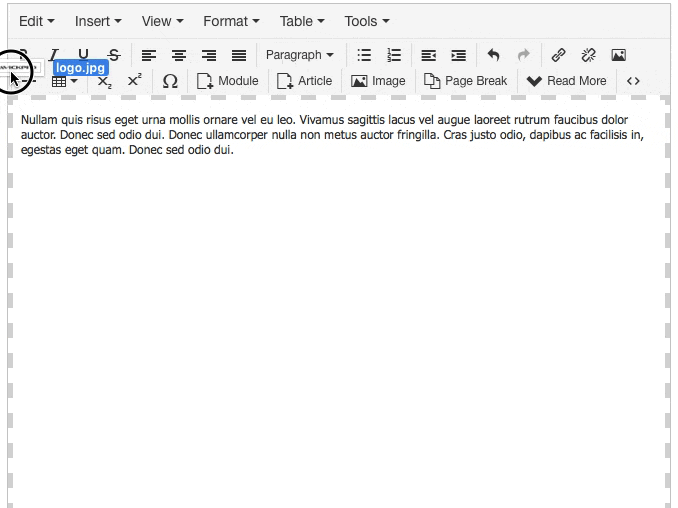 No more Backwards Compatibility
One of the goals of the new development roadmap was to keep Joomla backwards compatible with plugins and extensions released previously, but due to changes in PHP 7 the core Joomla! class String had to be renamed to StringHelper. In short, this means that the backwards compatibility promise is broken, but not because of anything the Joomla team did; without this change Joomla! simply wouldn't be able to run on PHP 7. As the official information says:
This is a very minor change and we don't expect any issues from it.
But you should carefully test all your third-party extensions before committing to the upgrade, as some updates/changes may be required.
When will the stable release be ready?
The launch date for Joomla! 3.5 has been changed multiple times in the past, but with the beta here we're entering the final stretch and it's not likely that there will be any more significant delays, though of course if any issues are discovered during the beta then they'll be a short delay for additional fixes to be applied. For now, the release is scheduled for:
17 November beta2
1 December – Release Candidate (RC)
8 December – Joomla! 3.5 Stable
so if all goes well we'll be able to update to Joomla 3.5 near the beginning of December; a nice early Christmas present!