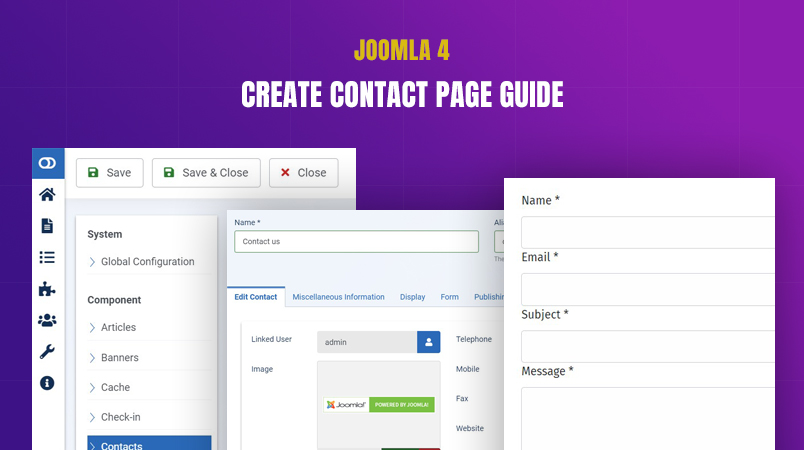 Contact pages are an important part of every website that allows you to get in touch with website owners. The Joomla website contact page is easy to build with the help of inbuilt contact components in Joomla. In this blog post we will discuss how to create Joomla Contact Us page using Joomla 4.
Joomla Contact component :
Joomla 4 comes with an inbuilt contact component, that allows the site administrator to create a contact form and publish it via the Contact menu item. The Contact component is carried forward from Joomla 3.x to Joomla 4. If you do not want to use any Joomla Contact Form extension the built-in Joomla contact is the best choice.
Create Joomla Contact item :
Navigate to Components > Contacts > Contacts > Click on New button. Once you click on the New button the following image will appear to add details about selecting a contact user, Image upload, telephone, address etc.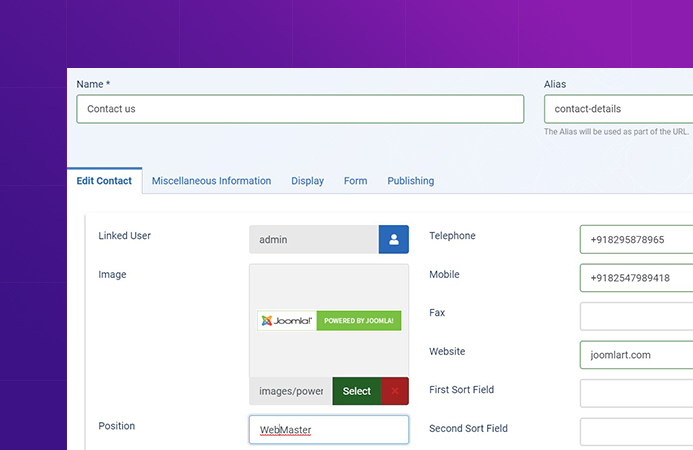 Miscellaneous Information: This tab is used to provide more description about your contact details or website as an optional field. It will show the contact item that will display on the frontend.
Display Options: Display options tabs will allow you to control the contact form information in Joomla contact. You can Show hide the details User Custom Field Groups, Show the links tab etc.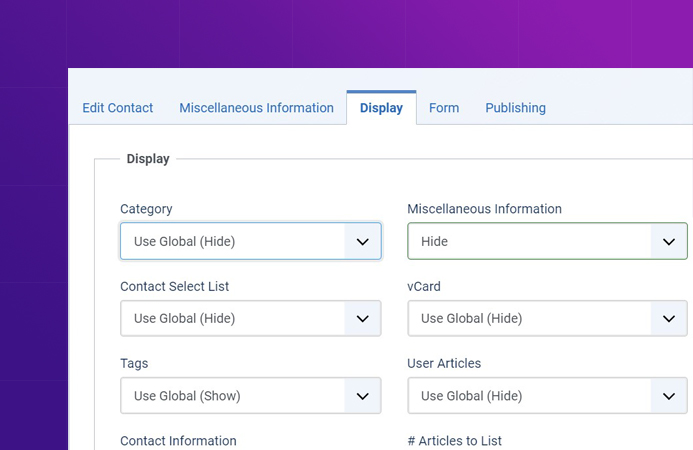 Joomla Contact Form options
: Joomla contact us page gives a dedicated option to control the contact form with different options, even if you want to hide the contact form and only want to keep the contact information this can be possible too via these options. You can also Add Contact Redirect URL, Send a copy for submitter when he submits the contact form.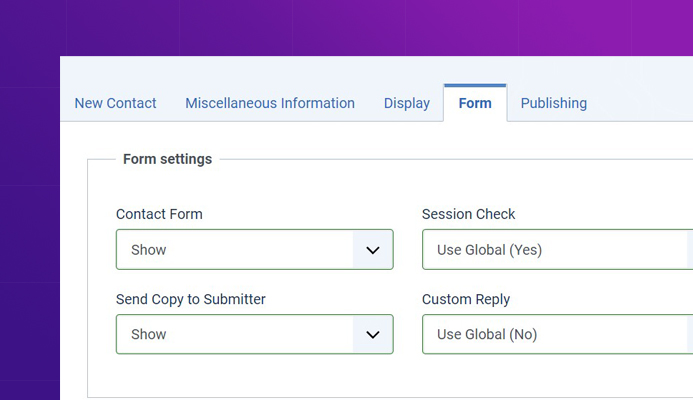 Add Joomla Contact us page menu :
Once the Joomla contact us page item is saved under the contact component it's ready to publish using a contact menu item. Navigate to Menu > Main Menu > Add New > Contacts > Single contact. Select the menu item, contact us and save.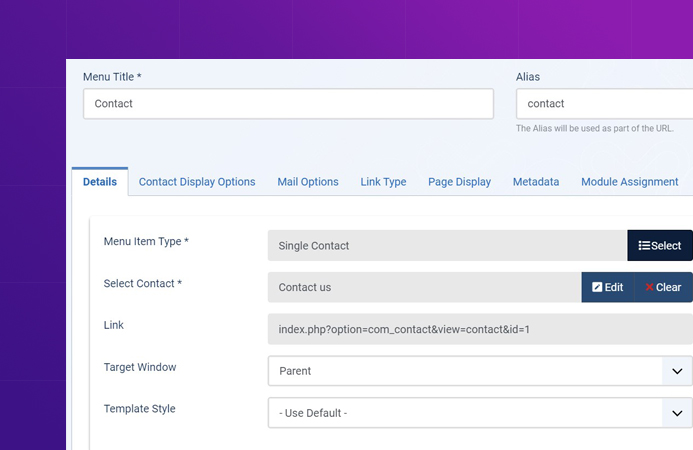 Once the Menu is saved you can see the contact us page on frontend.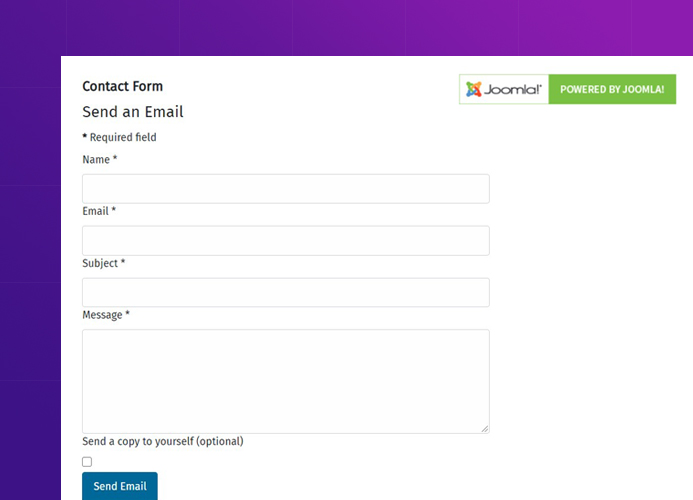 FAQs:
Can I add Custom fields on Joomla contact us page?
Yes! Since custom fields are supported in Joomla 4 as well, you can create your own custom fields and use them in Joomla contact form. Follow the detailed instructions to use
custom fields in Joomla contact forms
.
Can I add Captcha on Joomla contact form?
Joomla contact also supports the
Joomla Recaptcha
. To show under the contact form. To display the captcha on the Joomla contact page first you must configure the Recaptcha plugin in your Joomla that is the core Joomla plugin.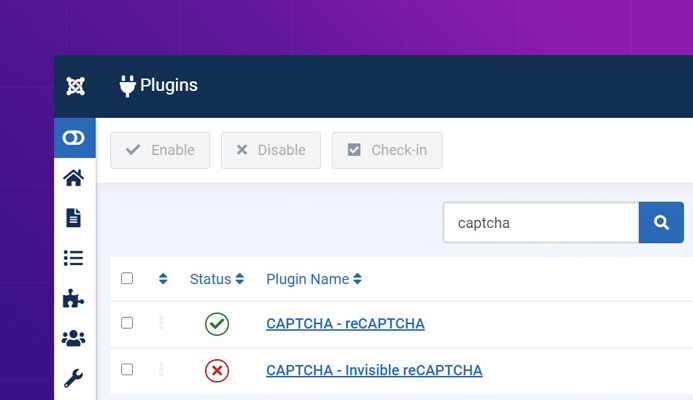 Once it's configured you can enable the captcha option in Joomla contact via Components > Contact > Options > Form > Allow Captcha on Contact > Select and save.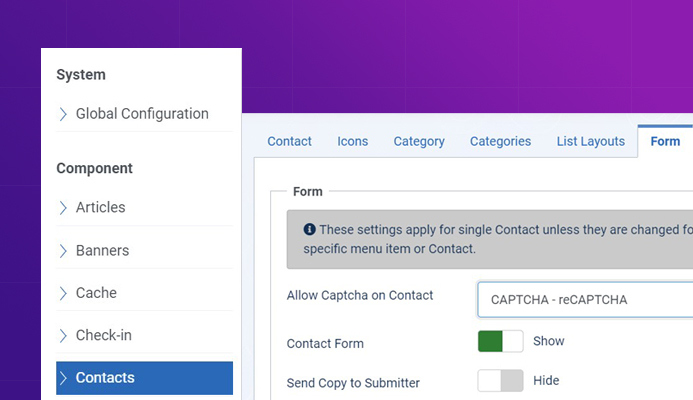 Once the Captcha is allowed and set to show it will be visible in the form.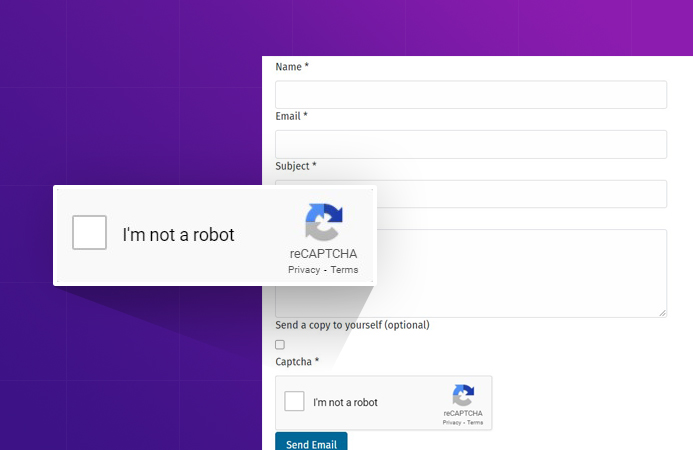 Summary :
Joomla offers a variety of inbuilt features that include the Joomla Contact Form extension as well. With the support of custom fields, Captcha and multiple display options, making Joomla contact us pages is very easy. Check out more tutorials on Joomla:
https://www.joomlart.com/blog/joomla-4-tutorials-all-you-need-to-know-about-joomla-4