The newest Quark template release comes packed with a few snazzy visual enhancements, changes to existing features to make them more consistent and flexible, and small fixes that take care of some bugs found by our users and other minor things that help improve efficiency.
Restyled Cookie Consent Banner
We decided to restyle the Cookie Consent banner, starting from scratch and reworking it so that it fits more naturally with the template aesthetic:

We've also removed a few redundant options in regards to style selection, script loading and CSS styles to avoid confusion.
Refreshed search pages
Continuing our visual tweaks, we've made changes to the design of the search pages to make bring them closer in design to the additional pages offered in Quark, with large titles and colored backgrounds: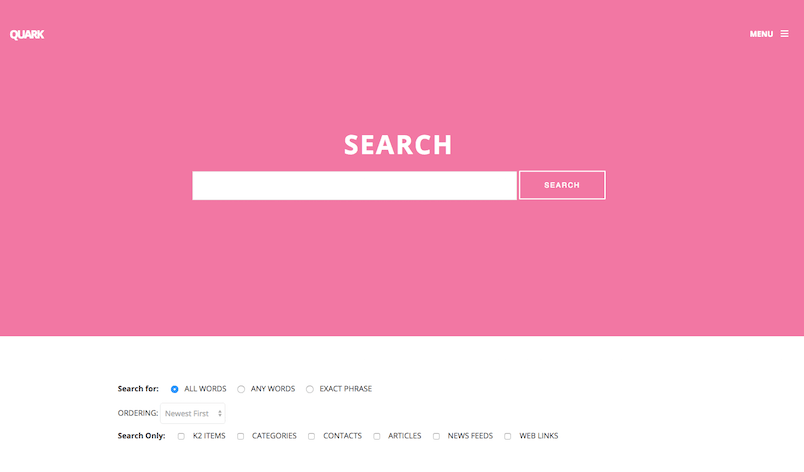 In addition, there's a new option to set a header image specifically for search pages for that little extra touch:

Page Logo Improvements
Quark already offered options for text or graphical logos on the site, but there was a little issue; whilst text logos could be switched between light or dark text so they it would be visible in the menu no matter the background image or color, graphic logos were stuck with just the one type.
Now, a new option has been added for specifying two separate graphic logos; one light, one dark. This way you can ensure that your logo will be displayed clearly just like the text logo:

Thanks to the script in the page structure there's only ever one logo element loaded on the page to keep things looking smooth.
Other improvements
The little fixes and improvements just keep on coming with Quark, and v.1.1.2 is not different. Check out our list of changes in this new release:
Added support for override styles on offline pages
Added support for displaying post images on K2's tags page
Added the missing RSS icon to the K2 category page
Added missing alt attribute text to the image on K2's user pages
Updated +1 button code when using the normal version of the Social API
Fixed a problem with the headers on category pages – from now on a module in the header position may replace the category page header if needed
Fixed problems with the breadcrumb module on subpages that used a large header
Fixed an issue related to an error message warning of an infinite redirect loop on page 404 that occasionally appeared
Fixed an issue with the submenu in the classic menu on tablets when the user switches between portrait and landscape views by rotating the device
Fixed a problem with queuing the submenu animation in the classic menu
Improved position of the classic menus on small desktop devices
Improved interval between the description of the author and a link to their website on K2 user pages
Fixed inconsistencies in naming some of the options in XML and template files
Improved data-order attribute in the PhotoSwipe gallery on mobile devices
What's next?
In approximately two weeks we plan to release the next major version of the template – v.1.2.0, which will include an e-commerce style with support for VirtueMart, so you can use Quark as a one-stop shop too! Below is a little sneak peak at the design of this upcoming style: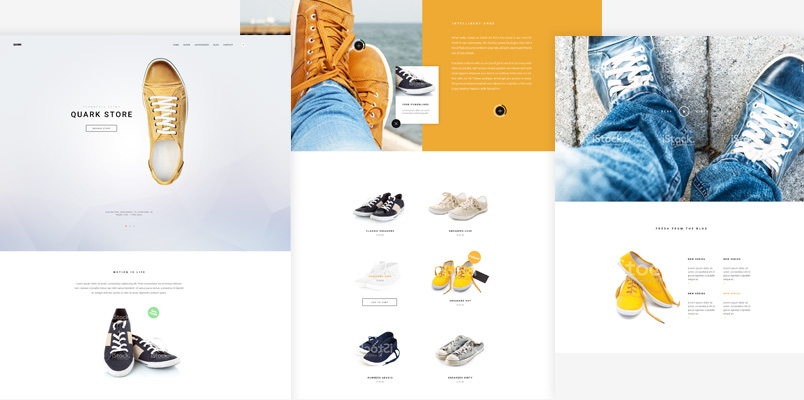 As always, we look forward to your feedback and comments about this update and Quark in general. If there's any features or fixes you'd like to see let us know in the comments; we read every comment and take all feedback on board when planning our future updates and improvements, so don't be shy and make your opinion heard!