Today, we are happy to announce update release for StoreFront Joomla template for Joomla 3.8.2, K2 component, Virtuemart component and HikaShop component upgrade and 30+ bug fixes. Based on the vote result, next Joomla template to be updated will be Quark.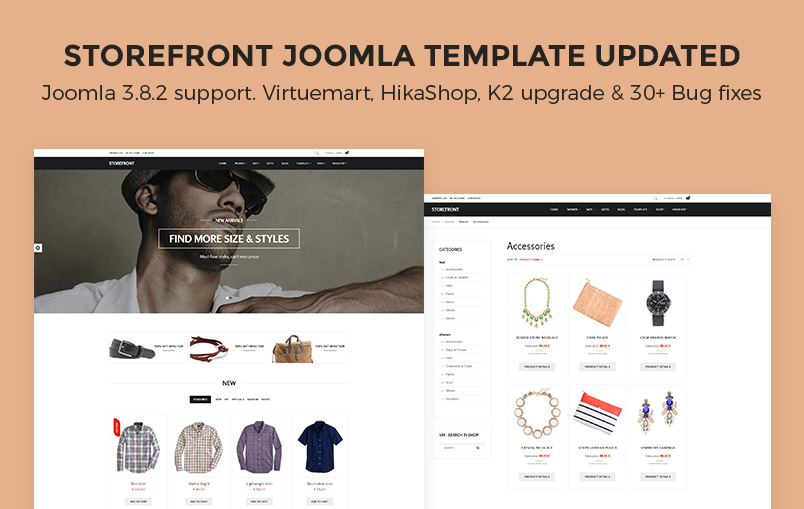 Release Changelog:
Missing style on add to cart popup after upgrade VM latest version
Should restyle login form on checkout page
Should realign addtocart button on product detail page
Got error on product description
Missing edit and print icons on the detail article page
Cant edit article on the frontend
Should realign content on print preview page
Got syntax error on category blog page
Got 404 when view k2 user page
VM search module is missing language
Some module positions are hidden on home page when view tp=1
Search module on sidebar is missing style when edit an article in frontend
Realign captcha field on contact page
Cant show custom field on contact page
Got css error on edit profile page
Got syntax error on list contacts in a category page
VM – Should restyle list order pag
Got warning error on account maintenance page
VM – Got fatal error on vendor page
VM – Should restyle user edit address page
Hikashop – Cant show product item on sub category
Hikashop – Not show rating on product page
VM – Css error on thank you for your order page
VM – Checkout page displays error on iphone
Article title on search result page displays error
Cant show custom field on category page
Show cart button is not changed color
VM – Account maintaince page displays error on iphone
Cant hide menu item on the frontend
VM – Got notice error on edit address page
VM – Login form displays error on ask a question popup on product detail page
Download Now Complete Changelog
Vote for template you want to update:
We have started working on the Gavick Templates update process and we would like to match our update tasks with the priorities of users.
If you have a template that you want us to update on priority, vote for it and we will get it updated faster for you.
Upcoming new release : JA Focus Joomla template preview is here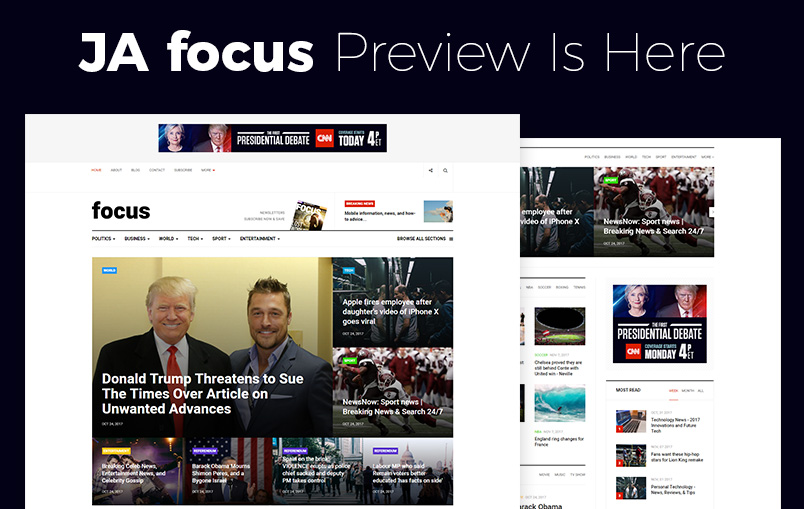 JA Focus is dedicated Joomla template designed for News and Magazine. The template is developed by JoomlArt team and based on T3 Framework.