Today, we are happy to announce update release for TechNews Joomla Template for Joomla 3.8.1, K2 component upgrade and 20+ bug fixes. We are working on Joomla update, 3rd party extensions upgrade and bug fixes for other templates, releases will be announced soon.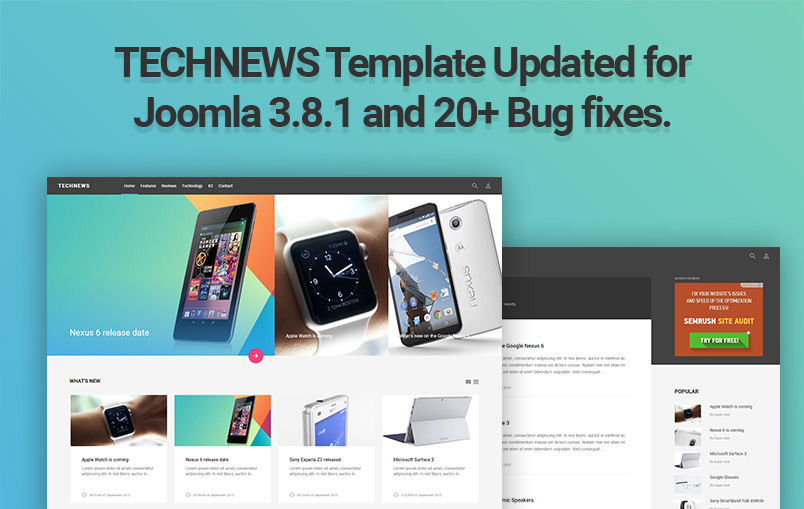 Release Changelog:
Got some error on user profile page
Got error when edit a module on the frontend
Cant show meta info on the article
Article title on search result page displays error
Banner should be displayed fullwidth on small screen
Got css error on blog post when view on iphone
Menu should be highlight when it's actived
Got css error on review page when view on iphone
Still show social icon when excluded it in a specify category
Got error when enable js compression
Tooltip displays error when hover title
Show duplicate title on contact us page
Cant open video on popup when click play icon
Cant show date on video module
Cant show custom field on frontend edit article page
Missing search and clear icon on tag item page
Missing recaptcha on the frontend edit article page
Cant show video play icon when view on iphone/ipad
Image on tagged item page displays error
Missing Gavickpro settings tab in the frontend edit article page
Cant hide menu item on the frontend
Css error on joomla blog page when view on IE browser
Download Now Complete Changelog
Vote for template you want us to update:
We have started working on the Gavick Templates update process and we would like to match our update tasks with the priorities of users.
If you have a template that you want us to update on priority, vote for it and we will get it updated faster for you.