Don't worry, there's no file modifications, no need for an FTP connection, or changes to the code – just a few clicks and access to the Joomla administrator area is all that's needed to setup this comments platform.

Why use Disqus with Joomla?
As many of you already know, Joomla's core com_content component doesn't have any built-in comments features, so you'll have to rely on third-party plugins. However, good comment plugins like JComments are hard to come by, and often they are not updated to match the latest Joomla release for some time, which can delay site upgrades. Disqus offers rapid updates, easy installation, and the comments will not cause any conflicts with your template or other extensions because they have their own styles and JavaScript code. As such, it's a great alternative to JComments or other third-party extensions.
What are the main advantages of Disqus?
The core Disqus service is available at no cost, and support is also provided free of charge no matter how big or hefty your site or comment count is. Perhaps one of the most important features is that external comment systems like Disqus will not store any data in your Joomla database, run additional code or other common processes that regular comment extensions do. In addition, Disqus works fine on mobile devices because it is responsive so you don't need to worry about dedicated CSS rules.
Disqus loads asynchronously, so the comments load after the rest of your site without tying up system resources. This means that users can get access to your site content straight away, and by the time they reach the comment section they will have finished loading too; it makes for a smoother website experience and avoids unnecessary delays. On the defence and security front, there's a built-in spam filter and several features which allows you to protect your website from spam; if your visitors have a need to earn $$$ working from home, they'll need to look elsewhere! This comment system also supports dozens of languages and you can provide your own translations if needed.
How to run Disqus comments on your Joomla-based blog.
The solution is very short and simple. We need to start by creating a Disqus account which is totally free and takes just a few seconds. Alternatively you can of course login using the most popular social media accounts like Twitter, Facebook or Google+.
After registration we need to click on the 'Add Disqus to your site' link where we'll specify a few details to identify our comments.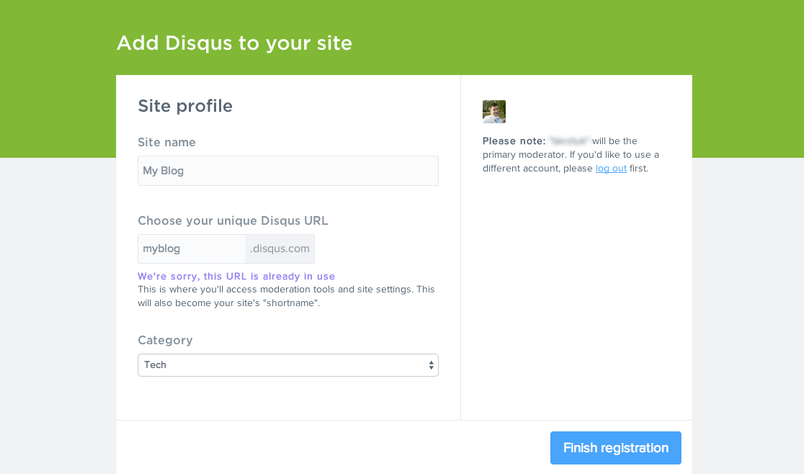 In this screen you need to add your Site name (this is just for indentification purposes, so call it anything you like) and a unique Disqus URL. This URL is flexible, much like the Site name, but it's also rather important since it's all we'll need later on when we're configuring the Disqus plugin on our site. Remember that by default the account which created the website profile will be set as the main comment moderator.
The next step will ask that you "Choose your platform" screen, so naturally you'll want to select Joomla.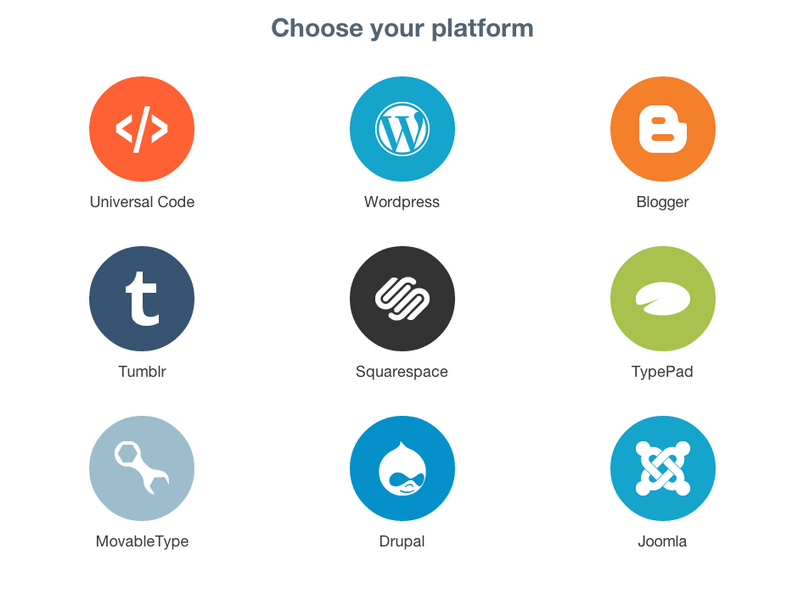 The last screen shows the 5 simple steps required to finish your installation. First things first; it's necessary to download the Disqus for Joomla plug-in and install it the same way as you usually would, via the Extension Manager in your Joomla backend. After installation head to Extensions >> Plugin Manager >> DISQUS Comments for Joomla! (type: content) and open the plugin's configuration. If you remember in the first step you specified the site name and the unique Disqus URL – now it is time to add this ID to the plugin configuration. In the Your DISQUS subdomain (shortname) field should paste your ID only, not the full sitename i.e. myblog not myblog.disquss.com. With additional settings it is possible to set the Disqus language and also set the categories or items where the plugin should appear.
That's all!. Now when you visit your article on the front-end you should see the nice Disqus form below the content.