A few years ago to find out what CMS was built visited by us website you had to know the characteristics of a particular content management system. Since when available is Wappalyzer that knowledge recedes into the background.
Wappalyzer is a addon for Firefox and Google Chrome browser that uncovers the technologies used on websites. It detects 80 popular content management systems, web shops, web servers, JavaScript frameworks, analytics tools and many more. Install the addon and restart your browser. Now just browse to any website and you will see all the applications, software or frameworks the site is using in.

The author of this tool collects statistics on its use based on the number of installations detected by Wappalyzer in the past 30 days. This chart below shows the market share of the most popular applications in the category CMS (today screenshot).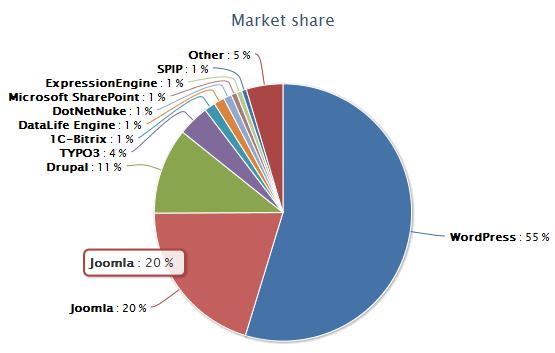 They have 369,327 records on 154,546 websites using Joomla since 30 December 2011.
There are currently over 29,000 people that have the add-on installed and are reporting this data every single day. Since the beginning add-on has been downloaded 276 628 times. Since the beginning Wappalyzer has identified 280 applications 2 billion times on 65 million websites – statistics from April 2012. The tracking of this addon is conditional and it depends on the extensions.wappalyzer.tracking in about:config. If you set this value in about:config to false it will stop Wappaylzer from tracking you.
This is necessary tool for webmasters, webdesigners and even systems administrators because it allows them to quickly find out what software and frameworks a site is using without having to look at the source code.
Wappalyzer was founded in 2008 by Elbert F and has been made possible with the funding of AOE media GmbH, the leading Open Source web development company in Germany.