We made new version also for Joomla! 1.6, all in one, you have to install just one file a module. News Show Pro GK4 is probably the best tool to present articles for Joomla!. A large number of amount of options and possibilities of formatting causes NSP is a complex tool in making www pages content more attractive.
To download this extensions you must have an account on gavick.com. Choose the right version for your CMS and install like others. If the installation process is successful, you will be able to use our tool.
If you have already experienced News Show Pro from previous versions, you can immediately compare the different aspect of the new settings interface panel, much more friendly and intuitive, making it easier to handle and to understand the logic of all parameters available. The parameters are grouped into different tabs, thereby enabling a better and more objective way to perform any change as planned.
Depending on your version of Joomla you can select type of data source used to generate module content from Joomla! sections, categories and articles or data source from K2 categories, articles or tags. Depending on the option selected, the area below will be changed automatically, showing the respective options according to source type selected.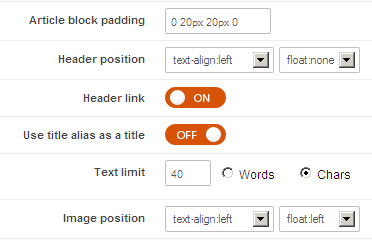 You had to know a little of HTML nad CSS to know how to use all Article Layout settings, but it helps because you will see what code module will use to show your content. For example, you can assign padding for article block as a CSS property value.
By they way, we use this module on some of ours templates like: Gamebox Magazine, Postnone and MyStore.
GK4 offers support for select third-party extensions:
K2 component (Joomla 1.5 only)
K2Store component (Joomla 1.5 only)
JComments (Joomla 1.5 only)
VirtueMart (Joomla 1.5 only)
Certainly the timing of an upgrade of these components, our module will also offer these features for users of joomla 1.6.