Getting started with Joomla!
Last Updated:

Category: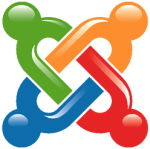 Joomla! is the second most popular CMS software on the planet, after WordPress. A full-featured content management system (CMS) that includes all the tools and features you need to publish a complete website on your own, without a whole lot of technical expertise or understanding. Joomla! is web software that allows you to create and manage Web pages easily by separating the creation of your content from the mechanics required to present it on the Web.
Supported Joomla! versions
Currently, there are two stable and still supported versions:
Joomla! 2.5.x – is a Long Term Support release and support for it will continue until December 31st, 2014.
Joomla! 3.x – is a the third Short Term support release in 3.x series and is a one-click upgrade (not a migration) from previous J! 2.5 and 3 series releases.
Joomla! can be used as a base for:
Corporate Web sites or portals
Online magazines, newspapers, and publications
E-commerce – online shop
Government Web sites
Small business Web sites
Non-profit, foundations and organizational Web sites
Community-based portals (similar to FB)
Personal or corporate blogs
Product Web sites
And that's why our Gavick templates are prepared to meet these projects.
Technical aspects of Joomla!
In Joomla!, all your content (like text) is stored in a MySQL database or PostgreSql database in your hosting account, not in files.
Joomla! is composed of a Framework and extensions. There are several types of extensions (modules, components and plugins), each capable of performing specific tasks. Some extensions are developed as part of the Joomla! project and come with your default installation. If you want to add new features to your site, you can install more extensions.
PHP and MySQL are the technologies that the Joomla! is built on, but that doesn't mean you need experience in these languages to use it. Anyone can easily use CMS Joomla!. Although on the market there are a large number of publications (books, ebooks and videos tutorials) about Joomla! we prepared a useful guide for all interested webmasters in this topic, not only our Gavick clients.
Table of Contents
Joomla! Templates
Joomla! Modules
Customization & FAQ
Keeping the Site Secure
Supported third-party Extensions
This article was first published